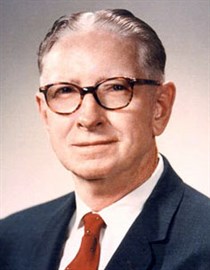 Harold J. Vance was born in Geneva, Indiana. He obtained his bachelor of science degree in petroleum engineering and geology in 1923 from the University of California (Berkeley). He earned his law degree from South Texas Law School in 1939.
Vance worked for several companies during his professional career: the United Oil Company, the U.S. Bureau of Mines, the Marlin Oil Company, and the Continental Oil Company. From 1934 to 1953, he served as department head of petroleum engineering at Texas A&M University. He was also well-written, authoring two books relating to petroleum engineering and numerous papers on various petroleum industry phases.
He was one of the founding directors of The Society of Petroleum Evaluation Engineers (SPEE). He served as president in 1963 and on the board of directors in 1964. In 1980, Vance received a Lifetime Membership Award from SPEE.
The Harold Vance Department of Petroleum Engineering became the first "named" department in the Texas A&M University System when a former student donation named it in Vance's honor.