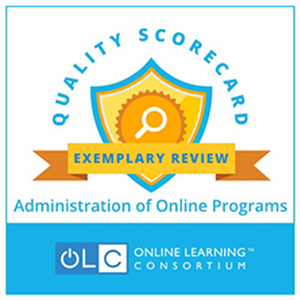 The Master of Engineering Technical Management (METM) degree is a part-time, online, lock-step program created specifically for working professionals. All students follow a set curriculum and degree plan that has earned Exemplary Endorsement from the Online Learning Consortium for the Administration of Online Programs.
---
Year 1 Fall Semester
TCMT 610 Engineering Personal Leadership* - Addresses Emotional Intelligence (EQ) and developing cognitive, emotional, and behavioral capabilities so students will become effective leaders. The course will explore the area of emotional intelligence, identify personal EQ competencies and areas for improvement, and build on these competencies and skills.
TCMT 612 Technical Management Decision Making - Instills a general intuition for data-driven decision-making and equips leaders with the tools and techniques necessary to analyze large databases and use effective data visualization to gauge key metrics.
TCMT 613 Technical Project Management  - Provides professionals with advanced tools and techniques to strategically execute projects, programs and portfolios. The course provides advanced skills and practical instruction on the processes, organizational structure and tools that assure project work yields desired business results.
TCMT 619 Personal Leadership Coaching - A unique opportunity to engage in experiential learning, work one-on-one with a professional coach and develop a comprehensive leadership development plan based on the findings and insights from your EQ-i 2.0 assessment report. In a series of interactive and reflective one-on-one sessions you will deepen your understanding of your emotional competencies and identify areas of improvement.
Year 1 Spring Semester
TCMT 623 Financial Decision Making  - Covers financial engineering for technical managers, accounting and financial concepts to provide every manager with a critical perspective on business performance and a foundation for good decision making.
TCMT 624 Managing Technical Teams - Examines the behavioral sciences relevant to the effective management of people and effective design of human resource systems, structures and policies. Topics include leadership, change management, motivation and pay systems, team dynamics, staffing, decision making, organizational communications, employee participation, performance appraisal, conflict management, negotiation, work design, organizational design, and organizational culture.
---
Year 2 Fall Semester
TCMT 689 Art of Becoming a Senior Leader* - This class will prepare to move from technical management to executive C-level management by explaining the key components and skills necessary to make this transition. The course will identify leadership roles in an organization, including paths to power and success from building and extending a personal brand. An important skill is learning to lead by influence, without formal authority. This will include techniques for building and maintaining a base of power, influence and opportunity, as well as how to lead in the face of ambiguity, including how to make decisions and set a path without data or with incomplete data. The course will also cover leading change, conflict management and negotiations and barriers to organizational change.   
TCMT 689 The Art of Effective Communication* - This course emphasizes the importance of effective communication with a focus on executive interactions, working with senior and mid-level managers, and communicating with team members or direct report employees. The course will cover tools, techniques and give students an opportunity to practice these approaches and receive real-time feedback.   
TCMT 631 Capstone Project I - Students benefit from a one-on-one mentoring relationship with a top-level technology executive, matched to their professional interests and goals, over the course of the program. Students gain firsthand knowledge of the practices, experiences, and values of a successful technology management leader. Mentors are matched with students starting in the second year, at the conception of the Master's Project. Providing true executive guidance and advice, mentors work with their mentees through the final defense of the Master's Project and graduation.
TCMT 634 Value Chain Management - This practice-oriented engineering and supply chain management course investigates a robust framework for better managing supply chains in today's rapidly changing markets. The course covers the next big trend in supply chain strategy, key skills required to be successful, how to effectively structure a company's supply chain strategy, guidelines for making strategic sourcing and make-buy decisions, and how to integrate e-business thinking into supply chain strategy and management.
Year 2 Spring Semester
TCMT 641 Capstone Project II - The Master's Project demonstrates students' ability to apply their coursework towards a specific technology solution based on the area of focus chosen by the student — usually in the form of a product or service — to a complex, real-world business challenge, objective, or scenario.
TCMT 643 Contract & Risk Management - An introduction to the principles of contract formation. This course highlights the distinctive characteristics of contracting as well as the team concept for effective contracting and the role of the program manager as a key team member. Subcontract management, competitive negotiation techniques, contract financing, and cost reimbursement are also discussed.
*Residency Course