Find answers to frequently asked questions about the Texas A&M University College of Engineering's 25 by 25 initiative.
Q.

Why 25 by 25?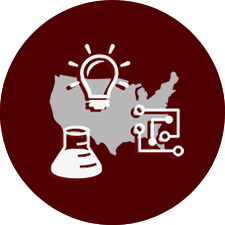 The 25 by 25 initiative began in 2013 to address the critical and growing demand for engineers in Texas and in the nation. The President's Council on Science and Technology estimates more than one million additional science, technology, engineering and mathematics (STEM) degrees will be needed in the next decade. The Texas Workforce Commission projects the need for 62,000 more engineers in Texas by 2022, an increase of 25 percent. The 25 by 25 initiative provides students access to a high quality engineering education.
Engineers are in great demand statewide and nationally. Before 25 by 25, the College of Engineering was turning away many qualified students due to limited enrollment.
---
Q.

How are you going to reach the goal of 25,0000 engineering students by 2025?
The College of Engineering's growth to 25,000 students will be achieved through several programs and include students at multiple campus locations.
Retention – Enrollment in the College of Engineering on the College Station campus will largely grow by improving student retention rather than bringing in more students. We are implementing new programs to boost the retention rate to 75 percent by 2025. Presently one out of four students on campus is an engineering student. Through retention, we will increase this percentage rather than significantly increase the number of students on campus.
Off-campus locations – The College of Engineering is also providing access to an engineering degree from Texas A&M on its Galveston, McAllen and Qatar campuses, as well as through the statewide Engineering Academies.
Online master's programs – The College of Engineering will be significantly expanding online master's programs.
Modest on-campus undergraduate and graduate student growth – We project adding about 115 more students to the College Station campus each year for the next seven years. This will result in a total of 800 more students by 2025.
2025 Student Growth
| Percent | Enrolled |
| --- | --- |
| 50% | Retention |
| 11% | Online Master's |
| 25% | Remote Sites |
| 9% | New Undergraduate Students on College Station Campus |
| 5% | New Graduate Students on College Station Campus |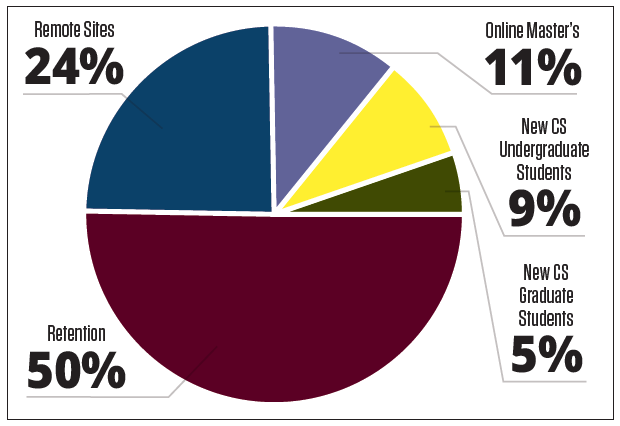 ---
Q.

Will 25 by 25 reduce the value of my Aggie degree?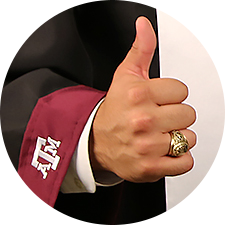 No, we are not changing our strong program requirements. Maintaining program quality and enhancing the educational experience for our students remains a priority. We are providing opportunities for students who qualify for admission to Texas A&M but would have been previously denied due to enrollment restrictions. Employers continue to come to our campus actively seeking students. This initiative will generate more Aggie engineers and expand the Aggie Engineering Network.
---
Q.

Will 25 by 25 increase class size?

No, the College of Engineering is committed to smaller class sizes. Currently there are no engineering classes with more than 100 students. More than half of our engineering undergraduate classes are 50 students or less, and 94 percent of our engineering graduate classes are less than 50 students.
100% of engineering classes less than 100 students
94% graduate classes less than 50 students
Over half of undergraduate level classes less than 50 students
---
Q.

What are some of the programs that the College of Engineering has implemented through 25 by 25 to enhance a student's educational experience?

The College of Engineering is enhancing our students' learning experiences through many new programs including:
ENGR[X]


ENGR[X] are high-impact learning experiences outside the classroom that set our students apart. Participation in ENGR[X] enhances education and fosters entrepreneurship, leadership, global understanding and/or community service. Students can participate in research, the Engineering Honors Program, internships, global experiences, community service projects and/or earn academic certificates to obtain their "X" factors. Participation in at least one of these programs is an engineering degree plan requirement, as of the fall of 2017.

More hands-on, active learning opportunities


Through activities such as Aggies Invent and Engineering Project Showcase and through facilities such as the Engineering Innovation Center and the new Zachry Engineering Education Complex, our students are working together to design, build and address engineering challenges.

More global opportunities

A global perspective is important in today's professional environment. Through 25 by 25, the college has expanded student opportunities to study abroad or participate in international internships in more than 25 countries. Our goal is to send 2,000 engineering students a year abroad. We are also pursuing more global scholarships to support students.

Learn about Engineering Global Programs
Professors of practice
In addition to more than 600 top faculty scholars, we have added 65 industry professionals to the classroom to teach and share their knowledge and expertise with students.
Multi-disciplinary research opportunities


As a Tier 1 research institution, both graduate and undergraduate students are offered opportunities to address engineering challenges by participating in research projects. Several programs such as the AggiE_Challenge, undergraduate summer research grants and Engineering Honors Program have been implemented to engage students in research early in their degrees studies.
---
Q.

Will there be an undergraduate distance education program?

No, there will be no undergraduate degrees offered online. An on-campus experience is an important part of our program. Technology will be utilized as we incorporate hybrid-learning models into our classrooms. But these changes will enhance rather than diminish the undergraduate experience. For example, the College of Engineering has started using the flipped classroom teaching model. A flipped classroom is one where class lectures are viewed by students before the class session. This allows students to better use in-class time to work with their professors through exercises and on projects. Studies have shown that a student's success rate increases with this type of modern learning environment.
---
Q.

Are there enough classrooms and labs to accommodate more students?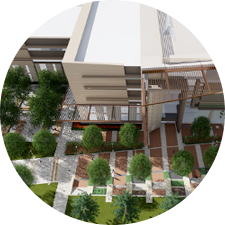 The College of Engineering has 2.1 million square feet of space currently and another 1.1 million square feet in development. The largest project underway is the 525,000-square-foot Zachry Engineering Education Complex. This facility will be unlike any other in the country. It will be open 24/7 and offer undergraduate students a high-tech, modern, interdisciplinary learning environment. All learning labs, research labs and maker spaces will be flexible to more efficiently use space and accommodate various class styles. Plans are also in the works for improvements and reorganization to other engineering buildings, in an effort to increase efficiencies and better locate resources for each of our 14 engineering departments.
Fun fact:
The Zachry Engineering Education Complex will be the largest academic building on campus, large enough for two Boeing 747s placed end to end.

---
Q. Will 25 by 25 undermine the research mission of the university?
No, as a Tier 1 research university, we remain committed to our research mission. Through 25 by 25, the college is broadening its research focus by engaging in more multidisciplinary research projects and expanding student opportunities to participate in research as soon as their freshman year.
---
Did you know?
One out of every three engineering students on campus today would not be here without 25 by 25.
Texas A&M Engineering has 60 professors of practice.
---
Q.

As a student what does 25 by 25 mean for you?

Student benefits of 25 by 25:
Enriched engineering education
More engagement with industry
New hands-on learning experiences
ENGR[X] opportunities
Better prepared for employers
Expanded Aggie network
State-of-the-art learning facilities
Interdisciplinary research opportunities
---
Fun facts
The College of Engineering at Texas A&M has the largest class of female freshman engineering students in the country.
25 by 25 is creating the most powerful engineering network in the world by expanding the Aggie engineering network.
---
Want to know more?