Associate Professor, Petroleum Engineering
Ted H. Smith, Jr. '75 and Max R. Vordenbaum '73 DVG Associate Professor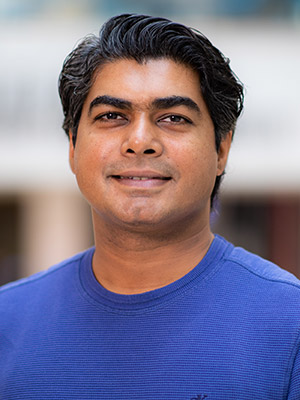 Educational Background
Ph.D., Petroleum Engineering, University of Texas at Austin
M.S., Petroleum Engineering, University of Texas at Austin
B.Tech., Electrical Engineering, Indian Institute of Technology, Bombay
Research Interests
Data-driven modeling and machine learning

Petrophysics and formation evaluation

Subsurface characterization

Subsurface data analytics
Carbon storage and geothermal reservoir monitoring
Industry Experience
Machine learning research consultant, Baker Hughes, Oklahoma City, OK - Mar-Aug 2019
Petrophysical research consultant, Schlumberger Technology Corporation, Sugar Land, TX - Jan 2014-May 2015
Petrophysics intern, Anadarko Petroleum Company, Woodlands, TX - Sep-Dec 2013
Petrophysics intern, Marathon Oil Company, Houston, TX - May-Aug 2012
Petrophysics intern, RWE Dea AG, Hamburg, Germany - May-Aug 2011
Wireline field engineer, Halliburton Energy Services, Houston, TX - Jul 2007-Dec 2009
Awards & Honors
Arie van Weelden Award, European Association of Geoscientists and Engineers - 2021
J. Clarence Karcher Award, Society of Exploration Geophysicists - 2020
Young Professional Technical Award, Society of Petrophysicists and Well Log Analysts - 2020
Early Career Award, Department of Energy - 2018
Doctoral New Investigator Award, American Chemical Society - 2018
Selected Publications
Li, H., Misra, S., and He, J. 2019. Neural network modeling of in situ fluid-filled pore size distributions in subsurface shale reservoirs under data constraints. Neural Computing and Applications, 1-13.
He, J., Li, H., and Misra, S. 2019. Data-driven in-situ sonic-log synthesis in shale reservoirs for geomechanical characterization. SPE Reservoir Evaluation & Engineering.
Wu, Y., Misra, S., Sondergeld, C., Curtis, M., and Jernigen, J. 2019. Machine learning for locating organic matter and pores in scanning electron microscopy images of organic-rich shales. Fuel, 253, 662-676.
Han, Y., and Misra, S. 2018. Joint petrophysical inversion of multifrequency conductivity and permittivity logs derived from subsurface galvanic, induction, propagation, and dielectric dispersion measurements. Geophysics, 83(3), D97-D112.
Tathed, P., Han, Y., & Misra, S. 2018. Hydrocarbon saturation in upper Wolfcamp shale formation. Fuel, 219, 375-388.