About Engineering Project Showcase
The Engineering Project Showcase is an annual celebration of the technical accomplishments of our engineering undergraduates. Over 1,250 students representing 277 engineering capstone design teams from all engineering departments will participate and present their team projects through posters and prototypes. 
Held at Texas A&M University's Zachry Engineering Education Complex, the showcase will be spread out over four floors of the state-of-the-art building. During the event, students will compete for multiple top awards that range from $250 to $1,500.
This diverse showcase offers students an opportunity to network with industry people and show off their projects, which are solutions to tangible problems faced in industry. Project sponsors range from BP and Halliburton, to American Airlines and Shell.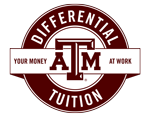 Differential tuition pays for enhancements to the learning experience of undergraduate students in engineering. These enhancements include extra sections of overfull courses, new computers and equipment, and even extra lecturers to teach classes. Learn more