Texas A&M University's presence at the South by Southwest (SXSW) Festival in Austin this week will include robots developed by current and former students from the Electronics Systems Engineering Technology (ESET) and Multidisciplinary Engineering Technology (MXET) Programs' Mobile Integrated Solutions Laboratory.
The Digital Systems Teaching and Research (DSTR) robots, which are articulated-leg suspension platforms that can be controlled by a cell phone or other Wi-Fi-enabled devices, will be part of the "Robot Raceway" that visitors to the Texas A&M House will have the opportunity to drive.
The original designers of the DSTR robots were Herbert Baumgartner '09, who designed the mechanics of the robot, and Vince Rodriguez '16, who led the development of the Texas Instruments-based embedded intelligence, communications and Android/iOS controller application.
For SXSW 2017, current students Alexis Crandall '18, Colby Ryan '14 and Salvador Echeveste '16 have added upgrades to the robots, including the ability for the robots to be driven using first-person video control and high-definition goggles.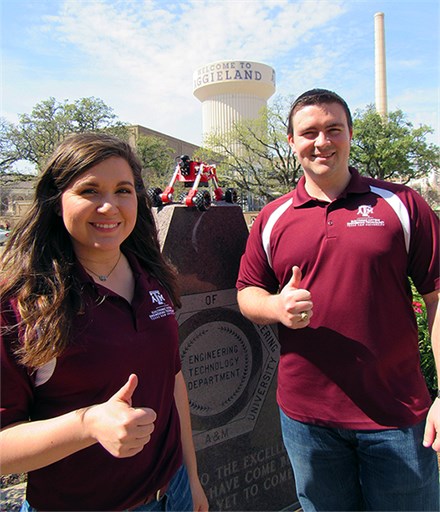 "It is exciting to play a part in demonstrating the cool things that are happening in the Texas A&M College of Engineering," Ryan said. "Having the opportunity to work with the Engineering Innovation Center on such a high-visibility project is both rewarding and motivational."
In addition to participating in the SXSW activities, the Mobile Integrated Solutions Laboratory has agreed to continue its robotics STEM outreach summer workshops started last year.  Currently, the lab will conduct one DSTR workshop for the Youth Adventure Program offered by the College of Education and Human Development, but the group hopes to add even more workshops in the near future. 
Another ESET capstone team is working on adapting a DSTR robot for lunar sample recovery. That group is going to the Johnson Space Center on April 13 with four mechanical engineering students from Texas A&M University at Qatar to present final designs for a possible lunar exploration mission in 2018. 
"Whether it is teaching a DSTR short course, working with NASA on using DSTR on a lunar exploration mission or now supporting Texas A&M at SXSW, the opportunities I have had as an undergraduate student in the ESET program are preparing me not only for my upcoming summer internship, but for a career in engineering when I graduate," Crandall said.
For more information on Texas A&M's presence at SXSW, visit sxsw.tamu.edu.