Four Texas A&M University Electronic Systems Engineering Technology (ESET) students took their DSTR (pronounced Disaster) robot to Stephenville, Texas, as part of the Mobile Integrated Solutions Laboratory's (MISL) STEM outreach and recruiting initiative. 
Alexis Crandall, Colby Ryan, Jennifer Jordon and Roger Casas were part of a two-day workshop that allowed private and home-schooled students to design, build, integrate, test, optimize, document and race a four-wheeled mobile platform.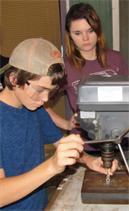 The teams competed in a relay race where each team had to pilot its robot around a track using a cell phone, handing off control on each lap to the next team member. Avoiding other robots on the racetrack was an important aspect of the race. The final race consisted of an obstacle course requiring the pilot of the robot to negotiate a number of hazards including ramps, sand pits and weaving between cones. Once fully integrated, the teams were able to download an Android app that linked to the DSTR robot to control its operation. Each team accrued points for quality of construction of its robot, how well it documented its STEM learning experience by using Twitter, and competing in two races.
The event was hosted by Parnassus, a new private school being established in Stephenville. Texas Instruments, a sponsor of the DSTR robot, provided SensorTags to MISL for STEM teaching and outreach activities.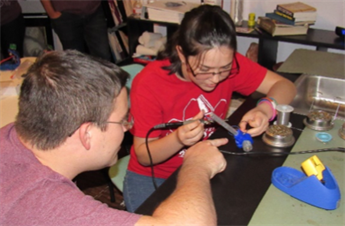 "We really enjoyed working with such motivated students," said Crandall. "It makes a big difference if everyone on the team is working together to combine the control, communications, electronics and mechanical aspects of DSTR."
Added Ryan, "We, as ESET students, benefit significantly by being part of this type of outreach activity and working with the next generation of Aggies."
The Mobile Integrated Solutions Laboratory plans to work with other private and home school groups in the upcoming year to move its new DSTR Robot into experiential STEM learning at the secondary education level.
For more information on the DSTR Robot contact Dr. Joseph A. Morgan, jmorgan@tamu.edu, 979-575-0128.