The Artie McFerrin Department of Chemical Engineering at Texas A&M University recently held a reception to honor of the 2016 graduating class.
Dr. M. Nazmul Karim, department head and T. Michael O'Connor Chair II, and Dr. Victor Ugaz, the Charles D. Holland '53 Professor and director of the undergraduate program, hosted the event in the lobby of the Jack E. Brown Chemical Engineering Building.
The end of the fall 2016 semester saw more than 70 students graduate from the department. Of these students, 63 were awarded undergraduate degrees, seven were awarded master's degrees (five in chemical engineering and two in safety engineering), and 10 were awarded Ph.D.'s. Further, there were a total of 29 Safety Engineering Certificates awarded – this certificate program is essentially a minor available to all engineering students, requiring between 12 to 15 course hours to complete – with 19 undergraduate and 10 graduate level certificates awarded.
In addition to honoring all of the chemical engineering graduates, there were several student awards handed out during the reception.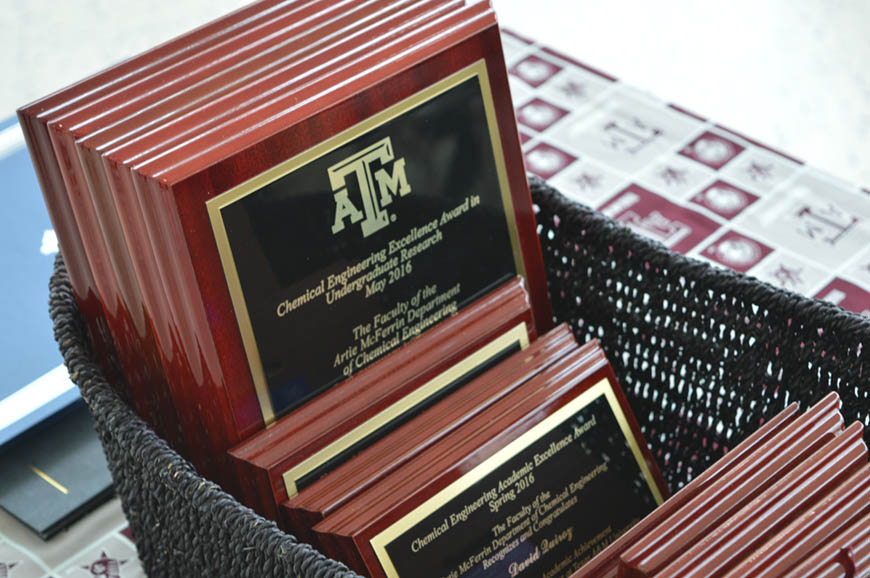 One of the final courses in the chemical engineering bachelor's degree program is Chemical Engineering Plant Design, and the top three teams from this course were honored:
First Place Team: Jayci Blake, Thomas Fuller, Alexis Musso, and Jennifer Sakowski
Second Place Team: Shayan Arshad, Danielle Gore, Daniel Herrera, Evan Mills, and Christopher Omiwade
Third Place Team: Alexander Delasandro, Caleb Hindy, Karl Morales, Ryan Popham, and James Webb
Joshua Hiatt received the Omega Chi Epsilon (OXE) award, given for academic performance and contributions to the chemical engineering honor society.
A total of five Academic Excellence Awards were handed out to students with the highest GPAs. Ethan Kamphaus, Brian Wrobel, David Quiroz, Alexandra Summers and Hayden Long each received the award. 
The Excellence in Undergraduate Research Award, which honors exceptional involvement and achievements in undergraduate research activities, was presented to Ethan Kamphaus and Tyler Brehm.
The most prestigious award, The Outstanding Senior Award, was presented to Hunter Reagan, who said he was taken completely off guard by the honor. The award is presented to the student who best exemplifies the characteristics of leadership, academic excellence and service.
"It was shocking, I didn't expect it," he said. "Honestly, everyone I know is exceptional, so I figured other people would have gotten it. I enjoyed [my experience at Texas A&M]. Classes are hard, but when you are surrounded by people you like, they aren't that hard."
Jayci Blake was presented with the Outstanding Senior Award for the summer 2016 graduating class. She was unable to accept the award in person, as she is on the chemical engineering's study abroad trip in Tianjin, China.