Professor, Chemical Engineering
Chair, TAMU Master of Biotechnology (MBIOT) Program
Carolyn S. & Tommie E. Lohman '59 Professor in Engineering Education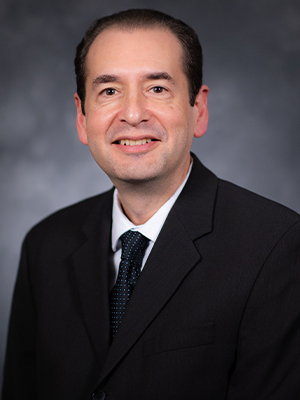 Educational Background
Ph.D., Northwestern University – 1999
M.S., University of Texas at Austin – 1994
B.S., University of Texas at Austin – 1991
Research Interests
Transport and flow in microfluidic systems
Microscale convectively driven biochemical reactions
Microsystems for DNA analysis and medical diagnostics
Materials and processes for construction of microfluidic environments
Origin of life
Awards & Honors
2019 Association of Former Students Distinguished Achievement Award in Teaching
2016 Linda Harris Distinguished Teaching Award
2016 TEES Faculty Fellow Award
2015 Charles W. Crawford Distinguished Service Award
2013 AES Electrophoresis Society Distinguished Service Award
Selected Publications
Priye, A., Yu, Y., Hassan, Y.A., and Ugaz, V.M. "Synchronized Chaotic Targeting and Acceleration of Surface Chemistry in Prebiotic Hydrothermal Microenvironments." PNAS, 114 (2017): 1275-1280.
Priye, A., Wong, S., Bi, Y., Carpio, M., Chang, J., Coen, M., Cope, D., Harris, J., Johnson, J., Keller, A., Lim, R., Lu, S., Millard, A., Pangelinan, A., Patel, N., Smith, L., Chan, K., and Ugaz, V.M. "Lab-on-a-Drone: Toward Pinpoint Deployment of Smartphone-enabled Nucleic Acid-based Diagnostics for Mobile Health Care." Analytical Chemistry, 88 (2016): 4651-4660.
Contreras-Naranjo, J.C. and Ugaz, V.M. "A Nanometer-scale Resolution Interference-based Probe of Interfacial Phenomena Between Microscopic Objects and Surfaces." Nature Communications, 4 (2013): doi:10.1038/ncomms2865.
Huang, J-H., Jayaraman, A., and Ugaz, V.M. "Enzymatic Sculpting of Nano- and Micro-scale Surface Topographies." Angewandte Chemie International Edition, 51 (2012): 9619-9623.
Shi, N. and Ugaz, V.M. "Tailoring the Nanoporous Architecture of Hydrogels to Exploit Entropic Trapping." Physical Review Letters, 105 (2010): 108101.