Nine students and faculty from the Department of Nuclear Engineering at Texas A&M University were invited to Kazakhstan to tour that country's nuclear energy capabilities from May 28 to June 1. The trip was organized by Nick Carlson, director of the U.S. Department of Energy's office at the U.S. embassy in Astana, Kazakhstan, and led by Dr. Kenneth L. Peddicord, nuclear engineering professor and faculty advisor for the trip.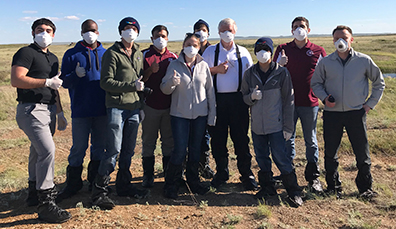 As part of the weeklong program, the group visited the Semipalatinsk Test Site (STS), where 456 nuclear weapons tests were conducted by the former Soviet Union from 1949 to 1989. The group also went to the location known as "ground zero" where the first USSR nuclear weapons test took place on August 29, 1949. STS officials reported that the A&M delegation was the first group of students from the United States to ever visit the site.
"The opportunity to visit 'ground zero' of the first nuclear weapons test was a truly extraordinary event," said Peddicord. "It enabled our students from the Department of Nuclear Engineering at Texas A&M to connect with the long arc of history that characterized the Cold War. It was a very moving, memorable and educational moment. We are very grateful to the U.S. Department of Energy and the U.S. Embassy in Astana, Kazakhstan, for making this possible."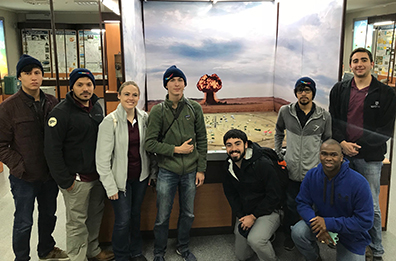 "Having learned and read about the Cold War as a historic event, it's difficult to truly feel the weight of what living in an era of bygone superpowers and under the looming threat posed by nuclear weapons must have been like," said junior Christian Sifuentes. "By visiting the place where these weapons were developed and tested, to see the destructive power of these devices and the legacy left behind by them, it puts so much in perspective. This experience was an unforgettable one that left me genuinely breathless. I am so thankful to my professor, Dr. Peddicord, for having put together this amazing opportunity."
The group also visited the STS museum, the Institute of Nuclear Physics, Shakarim State University and the National Nuclear Center.
"Traveling within Kazakhstan provided a once in a lifetime opportunity to interact with other students from the other side of the world, explore former Soviet Union facilities and visit 'Ground Zero' of early soviet nuclear tests," said senior Alexander Perry. "Our time spent traversing the country allowed us to be immersed in the culture and visit structures that seemed to be frozen in the Cold War era. I was amazed to see the similarities between the equipment used at their research facilities and universities with what we are learning with at Texas A&M."
Other participants on the trip were Alexis Ash (senior), Miguel Avalos (junior), Cristian Garza (senior), Jonathen Haney (graduate), Micah Jackson (senior) and Kevin Savabi (graduate).