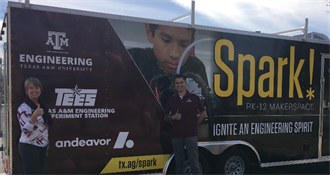 During the recent science, technology, engineering and math (STEM) 4 Innovation Conference, Spark!, Texas A&M Engineering's education outreach program, launched their new mobile trailer designed to help Texas children get excited about STEM fields.
Nearly 200 educators from across Texas attended the conference and had the opportunity to see the 24-foot trailer, in which students and teachers will be able to do anything from 3-D printing and welding, to learning about robotics and cybersecurity.
"We want to get students excited about engineering, and we have to start with young ones," said Shelly Tornquist, director of Spark! and PK-12 engineering education outreach. "We want them to know what a screwdriver is and how to solve problems by making things."
The STEM 4 Innovation Conference for K-12 Education is an interactive experiential event for K-12 STEM educators, administrators and counselors from across the state of Texas. The Texas A&M College of Engineering and the Texas A&M Engineering Experiment Station, in partnership with the College of Education and Human Development and the College of Science, hosts the conference, which provides workshops, tours, speakers and hands-on activities.