With only 24 hours on the clock, students came together to design and develop ideas to help make the Texas A&M University campus more inclusive.
The 2018 Diversity Hackathon brought students from many disciplines at Texas A&M to the Langford Architecture Center on Feb. 2-3, where they worked overnight to help turn spaces on campus into more welcoming environments for all people.
Cecilia Giusti, associate dean for outreach and diversity in the College of Architecture and head of the Diversity Council, launched the Diversity Hackathon four years ago. The inaugural hackathon featured a partnership with the Department of Computer Science and Engineering, and the College of Engineering continues to play an important role in the event with a majority of the participants being engineering students.
"For 24 hours they talk about what it means to be diverse, what is an inclusive approach, and how to talk better about inclusion and diversity," Giusti said. "[And] they actually create or produce something. Even if they don't win anything, the whole exercise is fantastic—it's magic."
One team of general engineering freshmen worked to develop a tool to help the visually impaired better navigate campus. Team members prototyped a device that could slip onto the back of a pair of glasses and connect to a phone, which could then use the campus Wi-Fi to pinpoint the wearer's location. The device would then communicate information through vibrations against the bone in the back of the ear.
"It would notify you of different obstacles around campus and different buildings or streets so that a person who was visually impaired would be aware of their surroundings and know which way to go without needing to look at a map," said Jaxon Tucker.
There were six challenges teams could choose from provided by different programs across campus. The College of Engineering asked students to focus on the Zachry Engineering Education Complex and how to make it more accessible for students with hearing, visual or physical impairments.
"It's going to be a world-class, state-of-the-art building, and I was hoping that students might come up with some concepts to ensure that all of our students are welcome and can participate at the same level," said Debra Dandridge, Texas A&M Engineering Experiment Station and engineering accessibility coordinator.
To help with the creation process, students had access to several resources, including 3-D printers and other tools provided by the College of Architecture. One team took up the challenge to create an open space for communication by developing an interactive screen to help people share concerns and ideas in a more accessible way.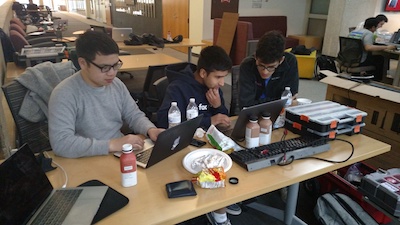 "We're going to have an interface for people to share their ideas through texts," said junior computer science engineering student Muin Momin. "We have a phone number set up and people can text complaints or something they like about the space that they're in, and that will display as a word cloud on the screen so everyone can see what's going on and the owners of that space can get ideas on how to improve it."
Being a part of the hackathon may also help students after graduation. Dr. J. Michael Moore, an instructional assistant professor in the computer science and engineering department, said industry is showing more interest in accessibility and expects graduates to be prepared to create these universally designed, accessible products.
"This hackathon is a fantastic opportunity for our students in engineering to not only try and do inventive ideas in a short period of time but also to be creative and innovative, and be ready and thinking that way, before they go out in industry," Moore said.