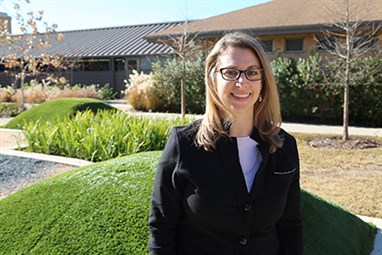 Rachal Thomassie, a former advisor in the Texas A&M University Department of Mechanical Engineering, is pursuing her master's degree in interdisciplinary engineering at Texas A&M with the hope that she will be able to continue to help students in a whole new way.
"I've always had a desire to help people and to devote my work efforts toward that value in some way," Thomassie said. "Working with students these past years, I have seen my direct and immediate impact on their lives. It is a very gratuitous and humbling feeling."
Thomassie received her undergraduate degree from Texas A&M in mechanical engineering, then moved to Florida to work for the Department of Defense. She worked for a year in mission and ministry work, then changed her career path to education when she accepted a position as an academic advisor for the College of Architecture at Texas A&M. She later moved to the College of Engineering in the mechanical engineering department, where she was an advisor for four years.
Realizing the impact her work and compassion had on students' lives, Thomassie decided to make a change and further her education so she could eventually help more students.
"I'd like to make a broader impact by developing programs that support engineering students and aid in their development as people and as future engineers," Thomassie said. "I also want to guide students academically through teaching and connecting the classroom learning experience to the 'real world.'"
The Master of Science in Interdisciplinary Engineering (ITDE) has been the perfect fit for Thomassie. The flexible program accommodates accomplished engineering students whose research interests cross engineering disciplines and colleges. Interested in systems engineering and engineering student learning, Thomassie found ITDE to be ideal because the major allowed her to get an education in a custom degree plan tailored toward her needs.
"The flexibility of ITDE has allowed me to create my own degree plan around my interest and research in engineering education and systems engineering," Thomassie said. "Since A&M doesn't currently have a specific program in this area, I choose ITDE."
This in turn will help Thomassie reach her career goals and stay true to her passion for helping students at Texas A&M.
"My goal is to create and direct programs that enhance engineering student development and engagement, and to teach engineering students," Thomassie said.
Thomassie was additionally assisted in reaching her goals when she received the BK Krezner Memorial Reentry scholarship through the Society of Women Engineers, which is awarded to a nontraditional reentry student who wishes to enter the workforce as an engineer.