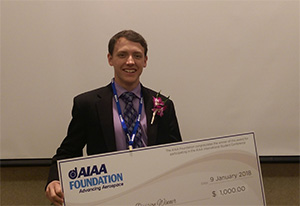 David Coleman, a graduate student in the Department of Aerospace Engineering at Texas A&M University, won first place in the Annual International Student Paper Competition at the American Institute of Aeronautics and Astronautics Science and Technology Forum (SciTech) held Jan. 7. He won the graduate category for his paper titled "Understanding Unsteady Aerodynamics of Cycloidal Rotors in Hover at Ultra-low Reynolds Numbers."
At SciTech 2018, Coleman and other regional winners from around the world presented in a final head-to-head competition, which was judged on research content and presentation quality by senior professionals. 
Coleman conducts research in the Advanced Vertical Flight Laboratory under the guidance of assistant professor Dr. Moble Benedict. The focus of the lab's work is on the development of new and novel unmanned aerial vehicles with advanced flight capabilities. Coleman's dissertation research is focused on the design, development and modeling of a two-winged, hover-capable robotic hummingbird. A video of his robotic hummingbird in flight can be seen here. He is currently working on a novel control strategy for the robot that mimics hummingbird flight much more closely, which could potentially result in maneuverability and performance comparable to real hummingbirds.