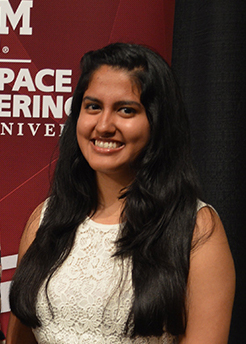 As an undergraduate student in the Department of Aerospace Engineering at Texas A&M University, Kanika Gakhar has immersed herself in research and engineering design projects. Due in part to her scholastic achievements and leadership roles, she received the Craig C. Brown Outstanding Engineering Student Award, the most prestigious honor bestowed upon a graduating senior in the College of Engineering.
"I am very grateful for being selected as a recipient of such a prestigious award," said Gakhar. "Mr. Craig C. Brown is a truly inspiring role-model for young, aspiring engineers like me. Having served on the College of Engineering Advisory Council and Honors Board, and provided scholarships for numerous dedicated Aggies, he has made several contributions to the growth and success of Texas A&M. I was absolutely thrilled to hear about Mr. Brown's involvement in numerous student organizations like Ross Volunteers and Student Engineer's Council during his time on campus."
"I thoroughly enjoyed sharing my bizarre ideas with him and learning more about how he gives back and works towards 'leaving something behind,' " said Gakhar. "Mr. Brown's inclination towards leadership in service and passion for excellence inspires me to continue his legacy by expanding my horizons and working on pioneering projects that can have a significant impact on the world.
While in high school, Gakhar chose to study on a full scholarship in Singapore, a country far away from her home in India. As a creative, passionate, and hard-working aerospace engineering senior, she has not only maintained her excellent grades, but also participated in various extra-curricular activities. "Thanks to the remarkable opportunities available at Texas A&M I was able to immerse myself in research and engage in numerous engineering design projects," said Gakhar.
She wrote an undergraduate research thesis, and submitted and presented a conference paper for her research on a flapping-wing, hover-capable robotic hummingbird, working alongside Dr. Moble Benedict, associate professor in the department. She was also on the SAE Aero Design Team that won second place overall at the international radio-controlled aircraft design-build-fly competition this year.
Gakhar worked as a Boeing Flight Sciences and Product Development intern this past summer. While at Boeing, she designed acoustic linings to attenuate engine noise and submitted a patent for one of her designs. She served on the Boeing Intern Leadership Team and launched new programs to encourage professional development and community involvement among Boeing employees. "I am very passionate about using engineering as a tool to bring about societal change. Thanks to Mr. Brown's scholarship, I am one step closer to achieving this goal," said Gakhar.
Aside from aerospace engineering-related activities, Gakhar is highly involved in several leadership initiatives on campus. As president of the Lambda Sigma Sophomore Honor Society, she worked on developing innovative projects to help underprivileged children. She used her international experience to formulate a curriculum based on global perspectives and inclusive leadership as director for the MSC Fall Leadership Conference.
As an undergraduate research ambassador and executive leader for the Council of Undergraduate Research in Engineering, she is working on providing students with guidance and access to opportunities in order to have rewarding undergraduate research experiences. Currently, she is working on launching an international online tutoring program as vice president of Sigma Gama Tau.
"By granting me the Outstanding Senior Engineer Award, Mr. Brown has not only lightened the financial burden on my family but also given me a helping hand to lay the foundation of my career," Gakhar said. "More importantly, Mr. Brown's support and kind words of encouragement have given me strength to believe in myself and pursue my innovative ideas. His generosity inspires me to help others and support fellow engineers in whichever way possible. In the future, I hope that I too can give back to my community and help students accomplish their dreams."
Gakhar plans to intern at SpaceX over the summer, as well as apply to graduate school to further her career.
The Craig C. Brown Outstanding Engineering Student Award was first presented in 1947 as the Engineering Faculty Senior Award. In 1996, the award was renamed to recognize Craig C. Brown for his vision to expand and enhance the program through a permanent endowment. Eligible students for the award are required to be engineering students of good standing and maintain an overall grade point ratio of 3.5. Winners are selected by Engineering Academic and Student Affairs after a nomination is confirmed by the student's engineering department, where they are then evaluated on scholastic achievement, leadership and character. The award also comes with a $5,000 scholarship.