One of the passions of Dr. Patrick Shamberger is making a difference in the learning process of 21st century engineering students. Within 18 months, Shamberger led a team of faculty members that established a new undergraduate minor and developed curriculum for a new Bachelor of Science degree. He also created a video lecture series of 40 videos on YouTube for an introductory materials science and engineering class, served on the Texas A&M University College of Engineering Undergraduate Programs Council and developed three new undergraduate courses.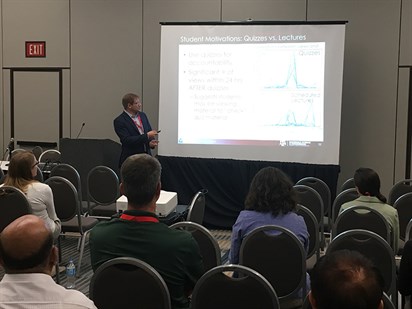 Shamberger's dedication to working with students as a mentor and advisor strengthens the young Department of Materials Science and Engineering at Texas A&M. The American Society for Engineering Education (ASEE) recognized his passion for utilizing tools to help educate this generation by awarding him the New Materials Educator Award from the materials division.
"I think this recognition is speaking to the fact that we're trying things and sharing them with our community," said Shamberger, assistant professor and undergraduate degree program director in the department. "Specifically, I tried to point to one or two approaches that really helped to impact students and to increase their involvement in the classroom."
According to Shamberger, a shift in the engineering education community is challenging educators to think of new and effective ways to reach their students, and that for close to 10 years, faculty in higher education have sought ways to engage students more in the classroom.
"These are things that we are learning a lot from the physics and chemistry communities because they have been struggling with the same problems," Shamberger said.
Many engineering students begin their higher education career in giant first-year physics and chemistry classes where it is easy to tune out the instructor at the front of a large lecture hall. This chief experience is what educators like Shamberger are working to change.
In his own classes, Shamberger encourages students to ask questions and challenge the theories and materials they are being taught. This creates a unique learning environment for not only the students, but for Shamberger as well in his role as a researcher.
"Sometimes students will ask questions that will make you stop and think and question the things that you might know or understand about something," he said. "Even the most naïve, unseasoned sophomore coming into our class can sometimes bring out the questions that require you to think about something a little bit differently."
Shamberger began his career at the Air Force Research National Laboratory because he had a genuine interest in the research side of things. He has since learned the importance of educating and impacting the next generation's quality researchers.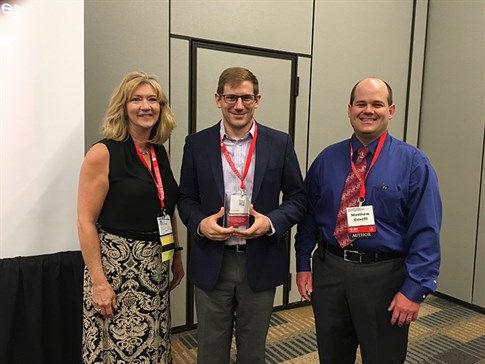 "Going into this, you are not sure what components you will enjoy more, and really that's one of the things that I very much enjoyed after I came here," Shamberger said. "We perform research because we want to learn new things, but I would say that it is equally exciting and potentially even more impactful sharing that experience with a new generation of students and researchers."
Shamberger's YouTube channel has had tremendous success educating students and curious YouTube surfers domestically and internationally since he began posting in 2014. Today he has over 5,000 followers with 70 percent of his views coming from international countries. He has had more than 670,000 hits with viewers watching for more than 2.3 million minutes.
In addition to the ASEE New Materials Educator Award, this commitment to education research has also resulted in being a member of the team that earned two National Science Foundation large educational program awards.