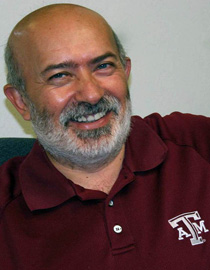 Dr. Daniele Mortari, professor in the Department of Aerospace Engineering at Texas A&M University, has been elected as a corresponding member of the International Academy of Astronautics (IAA). Founded in 1960, the IAA is an independent international community of leading experts committed to expanding the frontiers of space.
IAA brings together the world's foremost experts in the discipline of astronautics on a regular basis to recognize the accomplishments of their peers, explore and discuss cutting-edge issues in space research and technology, and provide direction and guidance in the nonmilitary uses of space and the ongoing exploration of the solar system.
The academy's beginning was led by Dr. Theodore von Karman, one of the most important figures in the evolution of rocketry and the IAA's first president. The IAA is based on the tradition of the great classical scientific academies of the 17th century in Rome, London and Paris, which fostered scientific enquiry and the exchange of ideas and new information in the earliest days of modern science. In the words of IAA's second president Dr. Frank J. Malina, "The classical academies served in a remarkable manner the phenomenal advance of man's new method of understanding nature and of applying this understanding for the benefit of mankind."
The IAA recognizes the global significance of astronautics and space exploration. The members are all over the world in approximately 65 countries. The IAA coordinates closely with national academies to foster a spirit of cooperation and progress that transcends national boundaries, cultures and institutions.
Mortari works in the field of attitude and position estimation, satellite constellation design and sensor data processing. He has also taught in the School of Aerospace Engineering at the University of Rome "La Sapienza," and electronic engineering at the University of Perugia.
He received his doctoral degree in nuclear engineering from the University of Rome "La Sapienza," in 1981. He is an Institute of Electrical and Electronics Engineers (IEEE) and American Astronautical Society (AAS) Fellow, American Institute of Aeronautics and Astronautics (AIAA) Associate Fellow, honorary member of the IEEE-AESS (Aerospace and Electronic Systems Society) Space System Technical Panel and former IEEE Distinguished Speaker.
He has published approximately 300 papers and has been widely recognized for his work, including receiving a best paper award from AAS/AIAA, two NASA Group Achievement Awards, a 2003 Spacecraft Technology Center Award, the prestigious 2007 IEEE Judith A. Resnik Award and the 2016 AAS Dirk Brouwer Award.
For more information about the IAA, visit: https://iaaweb.org/content/view/246/378/.