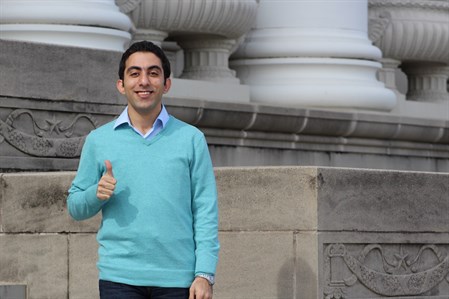 Payman Dehghanian, a graduate student in the Department of Electrical and Computer Engineering at Texas A&M University, recently received a scholarship from AACE International (formerly the Association for the Advancement of Cost Engineering) for demonstrating outstanding academic success. He will receive $2,500 for the 2017-18 academic year.
Dehghanian is in the final year of his graduate studies and is advised by Dr. Mladen Kezunovic, the Eugene E. Webb Professor and Regents Professor in the department.
Dehghanian is currently the president of the Texas A&M student branch joint chapter of the Institute of Electrical and Electronics Engineers Power and Energy Society, Power Electronics Society and Industry Applications Society. He received his bachelor's degree from the University of Tehran in 2009 and his master's degree from Sharif University of Technology in 2011, both in electrical engineering.
Dehghanian's research interests include power system protection and control, power system reliability, asset management, maintenance scheduling, renewable integration and smart grid applications.