Awarded to graduate students whose service has positively impacted the larger graduate student body at Texas A&M University, the Montgomery Award recognizes the recipient's excellent academics, scholarship and service beyond the classroom.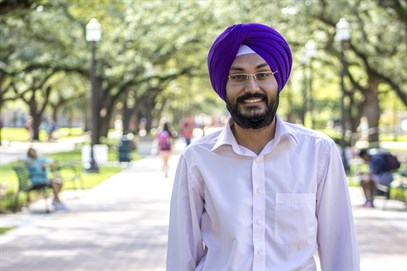 Jaskirat Batra, a graduate student in the Department of Materials Science and Engineering, was selected as the 2017 Montgomery Award recipient for his work in starting a highly impactful student organization and his commitment to helping other graduate students succeed.
"I hope that my initiatives in science policy and science communication at Texas A&M will have long-term benefits for the future of science research locally and worldwide," Batra said. "Through professional development in science communication, we are training the scientists to be better communicators of their research to the policy makers and public, thus closing the gap that exists between scientists and the general public."
To bridge the gap locally, Batra founded Aggies in Science, Technology and Engineering Policy (A-STEP) in 2015. The organization hosted a "March for Science" event in April, which was one of 600 marches worldwide to show solidarity for science and to celebrate scientific accomplishments.
"It is evident that a lot of people care about the benefits of science research, which also includes my research in making biomedical devices using micro and nano-technology," Batra said. "This award serves as a reminder that I must make public outreach an important component of my research in micro and nano-biotechnology."
In addition to A-STEP, Batra has served in many organizations nationally and locally, including the Graduate and Professional Student Council, the National Science Policy Group, the Aggie Network Student Ambassadors, Sigma Xi: The Scientific Research Honor Society, and the Sikh Student Association.
"Whether by motivating students to participate in community service through The Big Event, explaining to them the importance of networking and the strength of the Aggie network, or sharing the meaning behind the Aggie traditions, Jaskirat has played an important role in our department in serving as an Aggie Network Student Ambassador," said Ibrahim Karaman, department head and Chevron Professor I in materials science and engineering.