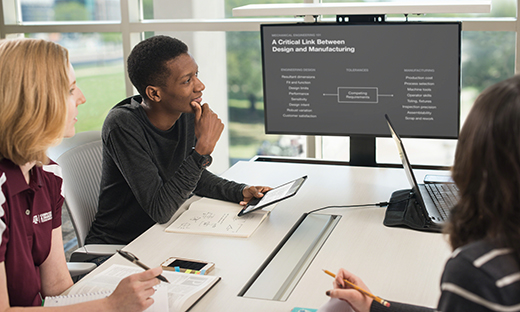 In the fall of 2018, 46 years after the opening of the original Zachry Engineering Building, the new Zachry Engineering Education Complex (ZACH) will open its doors to offer undergraduate students the most modern learning environment on campus. There will be no lecture halls, but instead active learning studios that foster teamwork and furniture that fully integrates technology. Active learning, also called collaborative learning or problem-solving learning, exists on many campuses, but ZACH will be one of the largest active learning spaces in the country with 18, 100-person learning studios and 14, 50-person learning studios.
As students step inside a learning studio, instead of desks ZACH learning studios will offer technology worktables with wireless connectivity and multi-device sharing screens. Each worktable will accommodate up to four students and their devices.
The rooms are designed to support all teaching styles from traditional lecture to team problem-solving oriented sections. In an active learning mode, faculty will be teaching among their students, engaging with them and displaying their teaching resources across several big screens, as well as onto the learning table screens via their tablet or the main teaching station.
"We have rethought the classroom experience to accommodate today's technology-savvy students," said M. Katherine Banks, vice chancellor and dean of engineering. "We will be enhancing their educational experience to increase their knowledge, increase retention and help them succeed."
While electronic white boards have been utilized in the college for years, the ones being implemented in ZACH will take collaboration to the next level. The college has partnered with T1V and will be using their ThinkHub Connect solution. Using wall-mounted, large-format touch screens, ThinkHub will allow the instructor to operate on an effective work space that is 20 times the size of the actual screen. Content can be created and moved "off screen" to be brought back later in the class as needed. This eliminates the need to constantly erase material to free up space on the live display. The system allows for adding content from multiple sources like laptops, document cameras, web-based video sources and content from the student table displays.
"Our learning studios were designed with an eye not only for current needs, but the needs of the future as more technology becomes Wi-Fi enabled," said Ed Pierson, director of IT and chief information officer.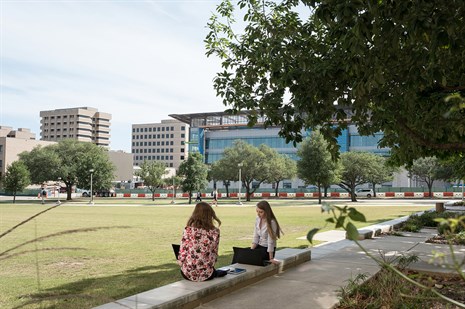 "Individuals are now carrying three to four devices per person and people want to stay connected, so ZACH is set up to offer enough capacity to ensure that students in class have what they need to take a test or work on a project online and not be pulled off by students sitting in the halls outside the classroom," Pierson said.
The ThinkHub system will also enable interactive tutoring sessions between remote sites, provide professors with the ability to interactively collaborate with students at other campuses and enable research teams at different locations the convenience of working with their team without having to leave their home office.
Educational technology and more activity-based learning are key elements to future engineering classrooms. The college of engineering embraced active learning as part of its 25 by 25 initiative to transform engineering education. Studies have shown that active learning helps students retain information better and enhances their educational experience. Active, high-tech learning is just one way 25 by 25 is making education better for students.
Technology worktables replace desks 
When the Texas A&M University College of Engineering embraced active learning and non-traditional classrooms as part of its 25 by 25 initiative, a need for a new student worktable arose. The college engaged its faculty and IT staff to help tackle this issue.
"We wanted to foster interaction between students in groups," said Mark Henry, manager of virtualization and learning technologies.
The faculty also wanted to support collaboration between students located at offsite locations and allow easy content sharing between locations. The college approached Steelcase asking for an active-learning table that was mobile, had power access, could host a 32-inch, flat-screen monitor, had automatic monitor lift, was durable, had a high design aesthetic and was a future-proof design.
Through an intense, collaborative effort of engineering, design and IT professionals, Steelcase and Texas A&M developed a new technology table.
Henry says that the needs for a table like this had never been thought through to this extent. "It's designed to support students who now carry an average of three to four devices each – phone, laptop, tablet and a device they wear," he said.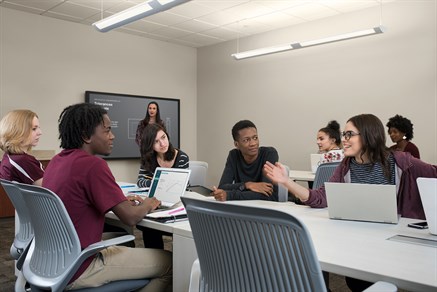 The new tables accommodate four people and their devices while also providing space for writing, books and papers. Power outlets for personal devices are easily reached in a recessed bay in the center of the table.
Table height and monitor size were carefully considered. When the monitor is raised and the instructor is walking around the classroom, students can still see over the monitors and the instructor can easily see students' faces.
Wireless connections keep IT informed of each table's technology status, reducing possible downtime. The design and construction of the table allow maintenance staff to replace a monitor, monitor life of other technology in just moments.
The college is in the process of testing out these tables. Prototypes are placed in several engineering buildings and the student response has been very positive. There is even a prototype classroom with nine technology worktables in the Emerging Technologies Building being utilized for an engineering summer session.