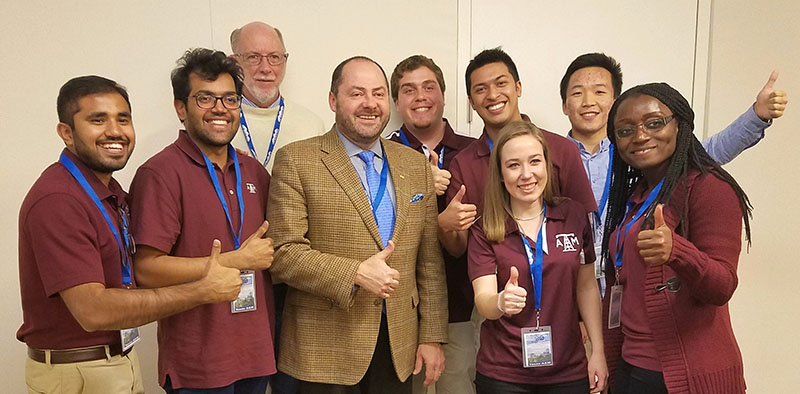 From left to right: Gibran Hashmi, Abhishek Punase, Dr. J. Roger Hite (SPE Gulf Coast North America Region Director), Darcy Spady (2018 SPE President), Isaac Zhukovsky, Asif Ahmed, Miranda Jones, Tian Liu and Vanessa Ndonhong.
A group of petroleum engineering students from Texas A&M University made a name for themselves in the regional PetroBowl qualifications in February, facing down other North America Region teams to secure a spot to compete internationally.
The PetroBowl team of the Texas A&M student chapter of the Society of Petroleum Engineers (TAMU-SPE) includes five students: Abhishek Punase, Isaac Zhukovsky, Asif Ahmed, Miranda Jones and Tian Liu. Together with their two coaches, Gibran Hashmi and Vanessa Ndonhong, these Aggies hope to make a great showing at the international PetroBowl contest held during the 2017 SPE Annual Technical Conference and Exhibition (ATCE) this October in San Antonio, Texas.
"We competed against 23 other teams from the U.S., Canada and Mexico," said Hashmi, a petroleum graduate student. "Five teams were supposed to qualify for the PetroBowl at ATCE and our team was the second among those five."
The top five teams from the North America Region are the National Autonomous University of Mexico, Texas A&M University, Oklahoma State University, the University of Kansas and the University of Tulsa.
PetroBowl competitions pit SPE student chapter teams against each other in a series of quick-fire rounds, answering technical and nontechnical industry-related questions. In regional qualification, the North America teams were divided into four different pools. Each team had a chance to play all other teams in their pool. At the end of the pool rounds, the top two teams from each pool were selected to compete in the single elimination round. The TAMU-SPE team played a total of eight matches in the competition. 
"There are five members for the team altogether, but at any given time only four of them play," said Hashmi. "We switch around the team, with our three younger members rotating for the two spots beside the two more experienced members."
PetroBowl contests began in 2002. Due to popularity, a two-stage pilot program was introduced in 2013 to transition the contest into a global event. By 2015 it went international with the introduction of six regional qualifier contests. 

The TAMU-SPE team in the 2013 competition won third place. The highlight of that competition was the spirit and support of students in the crowd, giving a true 12th Man series of yells to encourage their fellow Aggies.