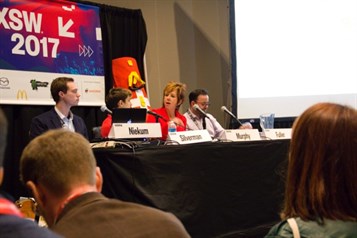 Dr. Robin Murphy, Raytheon Professor in the Department of Computer Science and Engineering at Texas A&M University, served on the Beyond BB-8: When Robots Start Acting Human panel at the South by Southwest (SXSW) Festival in Austin, Texas. One of Dr. Murphy's robots, a lifeguard assistant robot named EMILY, which is being used in Greece to prevent drownings by boat refugees, was on display. 
During the discussion panelists delved into a new wave of artificial intelligence research, deep learning, which has the potential to revolutionize manufacturing and change the approach to rescue missions. They also discussed the impact, risks and massive shift deep learning will bring to industry and everyday life.
Other panelists included David Fuller '94, chief technology officer of KUKA Roboter GmbH and computer science and engineering former student; Lauren Silverman, health, science and technology reporter/blogger at the National Public Radio (NPR) station KERA; and Scott Niekum, assistant professor and director of the Personal Autonomous Robotics Lab (PeARL) at The University of Texas at Austin.
Murphy's work with EMILY was featured in NPR's Science Friday, which was based on an interview after the Beyond BB-8: When Robots Start Acting Human panel at SXSW.
Murphy is a founder in the field of rescue robotics and currently directs the Center for Robot-Assisted Search and Rescue.