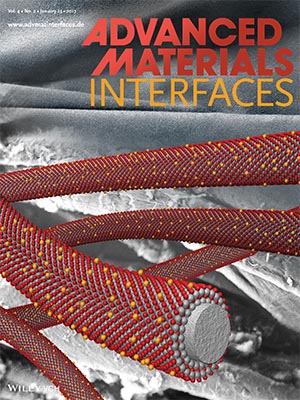 The research of Dr. Jodie Lutkenhaus, associate professor and holder of the William and Ruth Neely Faculty Fellowship in the Artie McFerrin Department of Chemical Engineering at Texas A&M University, was featured on the cover of the January issue of Advanced Materials Interfaces.
The research article, "Thin Films: Water-Based Assembly of Polymer–Metal Organic Framework (MOF) Functional Coatings," examined and proved the viability of creating layered polymer-metal organic framework (MOF) coatings on fibers. This research is significant for many reasons.
MOFs are gaining attention for their great variety in size, structure and functionality. The main feature that makes MOFs appealing, however, is they exhibit high uniform porosity and surface area. This makes MOFs ideal for use in gas storage, gas purification, gas separation, catalysis, and can potentially be used as sensors, supercapacitors and semiconductors. The problem is that MOFs natively exist in powder form, rendering them unsuitable for coating purposes. Further, current coating methods require high temperatures and possibly the use of highly toxic organic solvents.
Lutkenhaus and her collaborators were able to solve the temperature and toxic material problem by developing a new layer-by-layer method, bonding positively charged MOFs and negatively charged polymers in a water suspension. The new coating has been successfully applied to silicon, glass, flexible plastic and cotton, confirming that MOFs can be applied to a wide variety of surfaces. The research team has filed a provisional patent for the new process, and the article is on the journal's "most accessed" list.