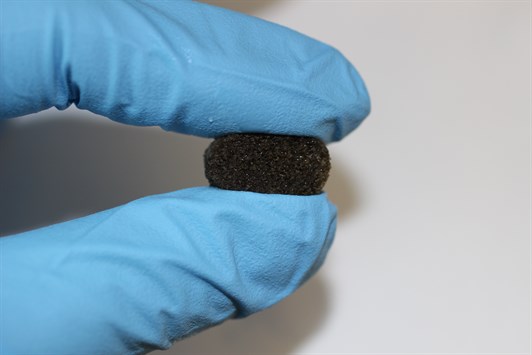 Dr. Melissa Grunlan, associate professor in the Department of Biomedical Engineering at Texas A&M University, was awarded a $1.9 million grant from the National Institutes of Health (NIH) to continue the development and testing of a newly developed material that shows promise in the field of regenerative medicine. The material is designed to precisely fill and promote healing of cranial bone defects and gaps in the skull that occur due to an injury, a birth defect or surgery.
The project, which started about five years ago, addresses the limitation of materials used to treat bone gap defects. Most commonly, this is currently done with a bone graft surgically harvested from the patient, such as from their hip. The limitation associated with this method is that the rigid bone graft cannot be readily manipulated to fit within the irregularly shaped bone defect. Due to the lack of fit and good contact with neighboring bone tissue, defect healing is compromised.
"This is like trying to fill in a missing puzzle piece with the wrong piece," Grunlan said. "These bone defects can cause tremendous functional problems and aesthetic issues for individuals, so it was recognized that a better treatment would make a big impact."
The new material is a scaffold that temporarily supports bone healing and then dissolves, leaving behind a healed bone defect. This is a shape-shifting foam that becomes malleable when exposed to warm saline, allowing it to perfectly conform and be press fitted into the irregular bone defect. Once in place, the foam becomes rigid and stays tightly fitted within the defect. This good fit is predicted to enhance bone integration and healing that is currently lacking in other treatment materials. 
The NIH grant was awarded in February to Grunlan and her co-investigators Dr. W. Brian Saunders and Dr. Roy Pool, professors from the College of Veterinary Medicine and Biomedical Sciences; Dr. Michael Moreno, professor from the Department of Mechanical Engineering; and Dr. Mariah Hahn, professor from the Rensselaer Polytechnic Institute. The grant will help support research focused on improving scaffold material properties that are critical to ensuring the best healing potential.
About the Department of Biomedical Engineering
Committed to solving the world's greatest health problems through the exploration of new ideas, integrated research and innovation, the Department of Biomedical Engineering at Texas A&M is producing the next generation of biomedical engineers, developing new technologies and new jobs, and achieving revolutionary advancements for the future of health care. The department has unique strengths in regenerative medicine, medical augmentation, molecular diagnostics/theranostics, tele-health, and precision medicine, and its faculty members are internationally recognized with collaborative relationships that span engineering, physical and natural sciences, medicine and veterinary sciences.