What if you could change the way students are educated and inspired? Suparna Mukhopadhyay, a student in the Zachry Department of Civil Engineering at Texas A&M University, worked to do just that at the Aggies Invent on Education, held Feb. 3-5.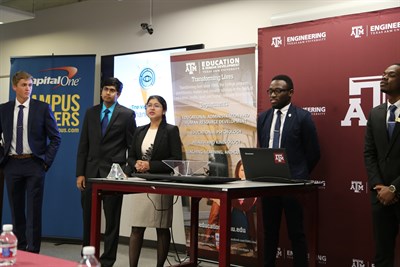 In partnership with students from the Department of Teaching, Learning and Culture in the College of Education and Human Development, students from the Texas A&M College of Engineering worked to develop solutions to issues encountered in classrooms and schools to make a difference for the 54 million K-12 students in the United States.
Mukhopadhyay, a graduate student specializing in environmental engineering, worked with a team called "The Visualizers." Her team of six was comprised of students from different engineering backgrounds: electrical, chemical, industrial and computer engineering. The team's vision was to infuse virtual reality into the learning process.
According to their research, one of the most frequently failed courses in high school is chemistry. Seeing the need for improvement in this area, Mukhopadhyay and her team decided to find a solution that allowed students to better visualize difficult concepts like the molecular orbital theory of the valence shell electron repulsion theory. Using the rapid prototyping facilities at the Engineering Innovation Center, they were able to build a device that successfully projected 3D holograms that help students more successfully visualize and understand molecular structure.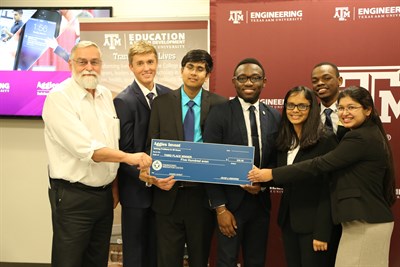 Mukhopadhyay helped her team build and test the prototype using AutoCAD, and aided in researching the feasibility of the use of 3D holograms in high schools, including a cost-benefit analysis of the implementation of such a project. Their team placed third overall.
"I enjoyed the brainstorming sessions a lot because it was there that we came up with an idea that could possibly change the way chemistry is being taught in high schools," said Mukhopadhyay. "Aggies Invent was a wonderful experience and I would highly recommend that students participate in future editions."
Contributing author: Ryan Terry