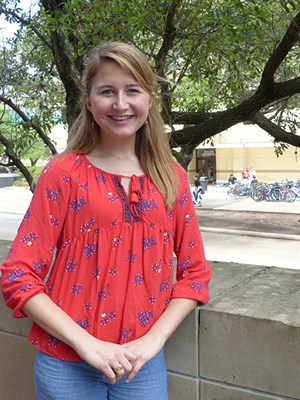 Carolyn Walther, a graduate student in the Department of Aerospace Engineering at Texas A&M University, was named the international winner of the American Helicopter Society's (AHS) prestigious 2017 Robert L. Lichten award competition.
Walther works with Dr. Moble Benedict in the Advanced Vertical Flight Laboratory (AVFL), and her project involves force and flowfield measurements on a cycloidal rotor in a water tank at matched Reynolds numbers to unravel the underlying unsteady aerodynamic mechanisms on the blade operating at ultralow Reynolds numbers.
Walther won the award for her paper, "Experimental and Computational Studies to Understand Unsteady Aerodynamics of Cycloidal Rotors in Hover at Ultralow Reynolds Numbers." She will be honored at the annual Grand Awards Banquet at the 73rd AHS Forum in Fort Worth, Texas in May.
The Robert L. Lichten Award is given once a year. It was established in 1975 to honor the memory of Robert L. Lichten, an outstanding rotary-wing engineer and the society's 22nd president. It recognizes new and innovative research in the area of vertical flight, and encourages AHS members who have not previously presented begin making public the results of their work through presentations at the local level. Each of the 10 AHS regions around the world is eligible to select a regional winner, from which an overall international winner and runner-up are selected.