Dr. John Valasek, professor in the Department of Aerospace Engineering at Texas A&M University, has been honored with a University Professorship for Undergraduate Teaching Excellence (UPUTE). Valasek was named the holder of the Thaman Professorship.
The award is conferred only upon the university's most distinguished teachers of undergraduates — faculty who have exhibited uncommon excellence and devotion to the education of undergraduate students.
Valasek, who is the director of the Center for Autonomous Vehicles and Sensor Systems (CANVASS) in the Texas Engineering Experiment Station (TEES), and Director of the Vehicle Systems & Control Laboratory in the aerospace department, has been with the aerospace department for 19 years. He teaches courses in atmospheric flight mechanics, vehicle management systems, modern control of aerospace systems, cockpit systems & displays, and aircraft design. He created the senior/graduate level course AERO 445 Vehicle Management Systems, which was the first regularly offered course on this topic in a U.S. aerospace engineering department. He created the aerospace engineering and computer science cross-listed course AERO 440/CSCE 489 Cockpit Systems and Displays, that combines students into integrated product teams to work on a unified project using a systems engineering format.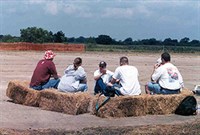 Valasek has authored or co-authored three books— Morphing Aerospace Vehicles and Structures (2012); Advances in Intelligent and Autonomous Aerospace Systems (2012); and Nonlinear Multiple Time Scale Systems in Standard and Non-Standard Forms: Analysis and Control (2014). 
Valasek's teaching and research activities are highly integrated and broadly encompass Dynamics and Control, with a focus on systems engineering and integrated/embedded learning systems. His teaching goal is to inspire and encourage diverse students to take responsibility for their learning by making them a stakeholder in the learning enterprise. This not only lessens their dependence on others to learn, but also fosters the excitement of discovery and insight, creating an essential lifelong learning experience since teachers will not be with them all their lives.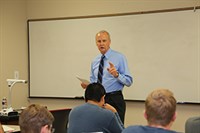 "I enjoy working with young people and helping them grow and develop as a person, since touching a student's life in a positive way is what being a teacher is all about," he said. "I try to get to know each student by name, and meet with them one-on-one outside of class at least once during the semester. I put a lot of emphasis on lifelong learning and strongly encourage all students to pursue graduate studies in their career."    
Valasek applies the discipline-based experiential learning pedagogy to ensure that each graduate of the department knows how to competently describe the physics of airplane flight, mathematically model an airplane, and successfully fly an airplane in a flight simulator. He also holds outside-of-class experiences called Hug-an-Airplane Day, Hug-a-UAV Day and Hug-a-Satellite Day to literally put students in touch with their major. 
Valasek has served as chair of committee to 41 completed graduate degrees including six NSF, six NDSEG, and one SMART graduate fellowship recipients, as well as supervising the research of 78 undergraduate students. His students have won national and regional student competitions in topics ranging from aircraft design to smart materials to artificial intelligence, and his recent Ph.D. student was the 2013 recipient of the Texas A&M University Award for Outstanding Accomplishment in Research, Doctoral Level.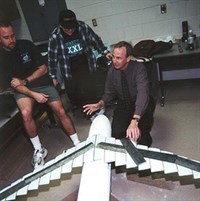 Valasek has been recognized for his teaching with awards at three levels — the 2014 ASEE/AIAA John Leeland Atwood Award as the national outstanding aerospace educator; the university level Association of Former Students Distinguished Achievement Award for Teaching (2008), and a Scholar Of The Montague Center For Teaching Excellence (2001); the college of engineering level B.P. Amoco Teaching Excellence Award (2001, 2003), and the Thomas U. McElmurry Teaching Excellence Award in the aerospace engineering department (2001, 2004, 2014). 
Valasek serves as the faculty advisor for Texas A&M's Sigma Gamma Tau (SGT) chapter, the aerospace engineering honor society. He served as the national president for SGT from 2006-2008, as well as the faculty adviser to the Texas A&M student branch of the American Institute for Aeronautics and Astronautics from 2000-2009, and received the National Faculty Advisor Award from AIAA in 2005. 
He was recognized at the 2016 Undergraduate Convocation held Aug. 28. The professorship is for a period of three years and carries a $5,000 annual salary supplement as well as an annual discretionary income of $5,000 to support his teaching program and related professional development. Valasek will develop a series of short learning videos for aerospace students based upon the highly regarded Khan Academy model. In the first year he will develop videos for the junior level dynamics of aerospace vehicles course. In the second year he will develop videos for dynamics and control courses, and in the third year he will develop videos for a variety of courses in the department.