TriFusion Devices founded by Dr. Blake Teipel (left) and Charles Brandon Sweeney (right) produces customizable 3-D-printed prosthetics.
---
A stack of sticky notes pulled in either direction typically won't separate. However, a single sticky note, when peeled, comes right off. The stack of sticky notes, a rather rudimentary example of physics behind three-dimensional printing, shows how additive manufacturing works. In its simplest form, it involves creating three-dimensional objects, gradually building them layer after layer in a single process. This differs from more traditional top-down manufacturing where materials are machined, ground, forged, molded, bent, cut, welded or glued into their final form.
Since the beginning, nothing the co-founders of TriFusion Devices have done has been traditional. Dr. Blake Teipel, a recent Ph.D. graduate, and Charles Brandon Sweeney, a graduate student in the Department of Materials Science and Engineering at Texas A&M University, are microwaving and welding a carbon nanotube-coated 3-D printer filament to fuse together parts to make next generation 3-D printed biomedical and sporting devices.
Two million Americans face some sort of limb loss, and on an average 500 limbs are lost each day. Prosthetic devices are very expensive and don't fit as well as they should. A prosthetic leg may cost up to $10,000 and take six to eight weeks to construct.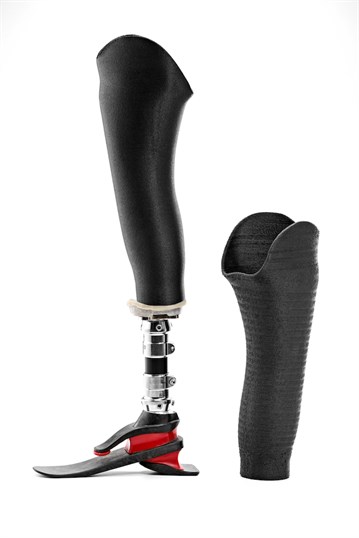 TriFusion Devices was founded to produce customizable 3-D-printed prosthetics. The technology enables design, fabrication and fitting of a prosthetic device in 48 hours rather than six to eight weeks. Unlike current technology, TriFusion Device's customized prosthetic and orthotic devices are cost-effective.
"Whether it's apparel or a piece of sporting equipment, traditionally there are four or five sizes —small, medium, large, extra large, extra-extra large," said Teipel. "When it comes to prosthetic sockets and orthotic devices, that's not an option. It has to be your size fits you, not just let's get it close. It's simply not an option.
The cofounders developed a 3-D printer with an integrated microwave unit that allows them to weld the layers of a 3-D printed part together, making it as strong as an injection molded or machined counterpart.
"To provide that type of customization today takes a long time with expensive materials and the device must be hand-built," said Sweeney. "Three-dimensional printing, combined with our materials, changes the whole equation."
The co-founders saw the potential of their technology in applications where mass-customization was not initially possible. Currently, TriFusion Devices is involved in clinical and beta testing of its definitive sockets. Next year, it will expand into production of custom sporting equipment such as football helmets, pads and shin guards as well as military products like non-ballistic soft body armor and helmets.
"There is going to be an ever-increasing need for mass customization where you're going to have an option to get a device that was made specifically for you," said Sweeney. "It would be ergonomically designed for that user. That's going to make all the difference in the world for applications in the biomedical industry, sporting equipment and protective devices for military."
The partners want to address the global need for prosthetic and orthotic devices, especially in developing countries. They are working with the Rotary Club of Lakeway/Lake Travis, Texas, and the Baylor College of Medicine to provide affordable prosthetic devices to children in Tanzania.
The co-founders plan to evaluate and track the performance of their technology on volunteers who are testing the devices at the clinical stage. After the completion of phase-one clinical tests, they will be partnering with the Veterans Administrations in Houston and Dallas to fit the prosthetic sockets.
Sweeney and Teipel will be submitting a 510(k) premarket submission to the United States Federal Drug Administration in the next few months. Once approved, TriFusion Devices can deliver its devices to the general public in collaboration with prosthetic and orthotic clinics.
During one of the tests, Teipel and Sweeney witnessed a patient grinning from ear to ear while walking and wearing TriFusion Devices' prosthetic device.
"We know that if we keep doing our job, then we will have that experience so many more times with so many more people," said Sweeney. "We will be working tirelessly to continue innovation in 3-D printing technologies that impact the lives of people everywhere."