Students from the Texas A&M University-Kingsville's (TAMUK) chapter of the American Nuclear Society (ANS) attended a tour of the Department of Nuclear Engineering at Texas A&M University that included two laboratories under professors from the Nuclear Science Security and Policy Institute (NSSPI), the Nuclear Science Center, the Texas A&M University College of Engineering Career Fair and a department seminar. The students were able to view different types of equipment used in the labs and gain more exposure to the field of nuclear engineering, a discipline that is not offered at TAMUK.
"The first thing I noticed was how personable everyone one was," said Abdullah Weiss, a junior mechanical engineering major and president of ANS at TAMUK. "It also seems like there are a lot of opportunities here for research and that is something that interests me as well."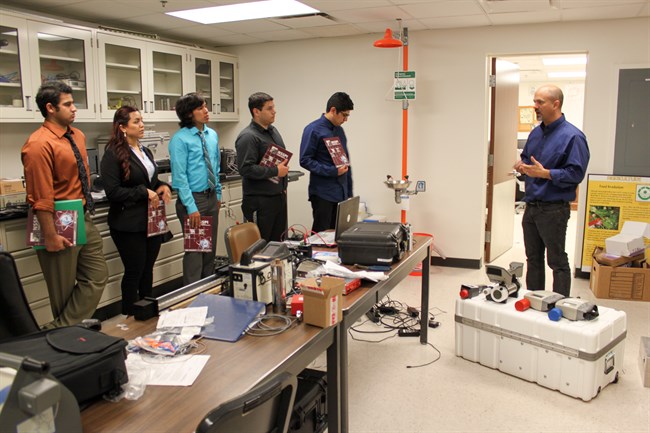 The group of 20 students toured the labs of Research Assistant Professor and Director of NSSPI, Dr. Sunil Chirayath, and Assistant Professor and Deputy Director of NSSPI Dr. Craig Marianno. The students received an introduction to radiation detection equipment, a discussion on the applications of dosimetry and current research projects. The students represent a growing interest in the field of nuclear engineering that is developing at TAMUK. Many of the students are looking to attend Texas A&M for graduate school.
"The curiosity that has really increased is in the minor program at Kingsville in nuclear engineering," said Nick Pizaña, a senior mechanical engineering student. "To my knowledge, it's become one of the biggest minor programs in engineering."
"I find the field interesting personally because of the waste aspect," Weiss said. "The issue of what we're going to do with that nuclear waste is important to me, and ensuring that we dispose of, or utilize it correctly, is going to have an impact on the future."The students are drawn to nuclear engineering for their own reasons, but a common thread is the idea of taking part in research that has an ability to affect future generations.
The students also had the opportunity to attend the opening of the Ray Rothrock Lecture Series, where nuclear venture capitalist Ray Rothrock delivered a seminar on the future of nuclear innovation and leadership within the nuclear industry.
"There is a certain level of importance in nuclear engineering as far as it being a delicate field where the detail is crucially important, and where those details affect a lot of factors" Pizaña said. "I think it has the potential to impact a lot of things."