Student innovation was truly the theme for the latest Aggies Invent. Medical devices, physical therapy aids, water quality testing, weed eaters and fashion mobile apps were just some of the innovative student products ideated at the event held Sept. 16-18 on the Texas A&M University campus.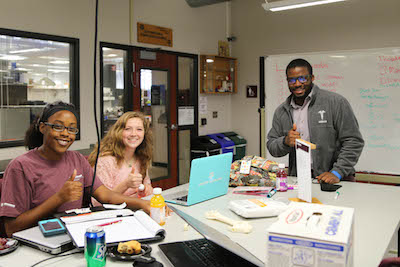 Aggies Invent promotes an innovative and entrepreneurial mindset among students. It gathers invited students, provides them with the needs statements, allows them to self-select teams and gives them access to support from the Engineering Innovation Center (EIC) to create solutions and prototypes in 48 hours.
For the first time, Aggies Invent flipped the script and put the students in control of the topics for the weekend. Aggies Invent: Bring Your Own Idea, kicked off with students pitching their ideas to the whole group. They selected the top 10 for development. Fifty-two students participated in this Aggies Invent.
"Students today are so creative and are always coming up with great ideas," said Rodney Boehm, director of Aggies Invent and associate professor of practice. "I hear a new idea almost every day.  We thought, let's give the students a way to develop their ideas into solutions — Bring Your Own Idea was born."
Taking first prize was Snap Desk, a lightweight, portable backpack that transformed into a desk and chair for children. Snap Desk is designed for children in developing nations to have a desk, chair and backpack because many schools are underequipped and far from their homes. Team members included Allison Korner, management information systems, Muhammad Aun, industrial and systems engineering, Purvit Soni, civil engineering, Gabriel Wang, electrical and computer engineering and Jon Rickert and Omar Dauleh from mechanical engineering.
Hex Support, a redesigned crutch, came in second place. The team was comprised of Andrew Allen, electrical engineering, Diego Garcia, biomedical engineering and Julie Garza, Xavier Benavides, Tyler Wooten and Christopher Rech from mechanical engineering. The Hex Support crutch was redesigned to include a hexagonal design for improved comfort, cushioned crutch tip for improved traction control and maneuvering skills and collapsible design for traveling.
The third place prize went to Quick Eater, a redesigned weed eater string control head to more efficiently string the tool. The Quick Eater retrofits weed eaters with an improved design to change the cutting line and simplify the process. Team members included Nirmal Patel, electrical and computer engineering, Ryan Alderink, computer engineering and Saurabh Balla, management information systems.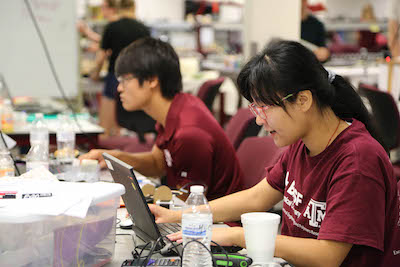 This Aggies Invent was judged by Dr. Johnny Hurtado, associate dean for Engineering Academic and Student Affairs, Dr. Akash Tyagi, professor of practice from computer science, Dr. Saurabh Biswas, professor from biomedical engineering and Blake Petty, director for the Center for New Ventures and Entrepreneurship.
The top three teams received $1,000, $750 and $500, respectively, for their awards. The presentations and awards do not mean the innovation is complete. Each team is invited to continue developing its product with access to the EIC and mentors throughout the process. Teams also have the opportunity to work with Startup Aggieland for additional assistance.
"The students who participate in Aggies Invent continue to impress me through their creativity, determination and teamwork," said Hurtado. "I encourage all engineering students and faculty to take their turn in participating in an Aggies Invent. It's a wonderful experience."  
More information on Aggies Invent and all upcoming events can be found here.