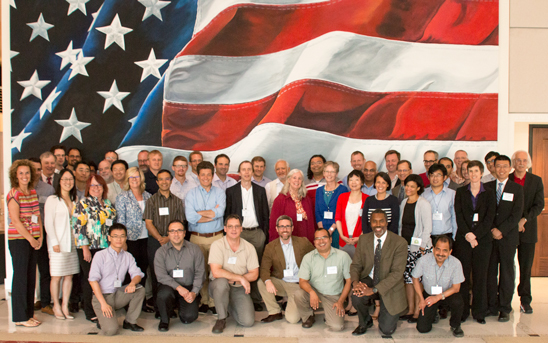 The Department of Mechanical Engineering and the Department of Materials Science and Engineering at Texas A&M University brought together more than 50 top material scientists and material design experts from across the nation to discuss interdisciplinary research focused on the engineering design of material systems.
 The workshop was supported by the Design of Engineering Material Systems (DEMS) program at the National Science Foundation (NSF) which was formed four years ago to support fundamental research intended to advance methods for the design of engineering material systems. 
 "What we're moving toward is to custom design material to exactly match what we need in a given application and the balance and tradeoffs we'd want in that given application," said lead organizer Dr. Richard Malak, associate professor and Morris E. Foster Faculty Fellow I in the Department of Mechanical Engineering.
Jump started by the success of a few pioneering researchers and now backed by the support of NSF, the opportunity exists to accelerate research in this area by furthering the development of a coherent interdisciplinary community dedicated to understanding materials design problems.
Defining the community
"One of the key things we're addressing in this workshop is defining what the community should be, Malak said. "We're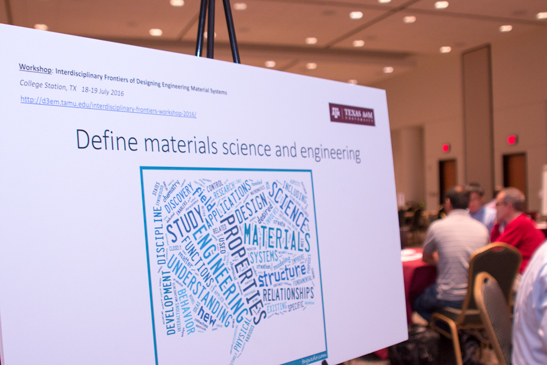 bringing together experts on both sides of the problem to create a new community of people interested in solving problems that can't be solved from one side or the other alone."
The two-day workshop focused on identifying factors that make interdisciplinary research in material system design difficult and those that can be leveraged to make major research advances; and using that information to articulate a vision for overcoming those difficulties and leveraging the opportunities identified.
Through breakout sessions and round-table and open discussions, participants could directly impact the future of the community.
"The pieces that will make the new community a community need to flow up from the people doing the work," Malak said.
Bridging Industry and Education
Organizers of the workshop, which also include Dr. Douglas Allaire, assistant professor in the mechanical engineering department; Dr. Raymundo Arróyave, associate professor in the materials science and engineering department; and Dr. Debra Fowler, director of the Center for Teaching Excellence, are further committed to the formation and growth of this new interdisciplinary community by leading an innovative program committed to educating the community's future experts.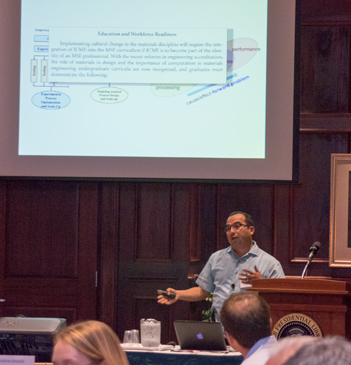 Supported by the National Research Traineeship program at NSF, the Data-Enabled Discovery and Design of Energy Materials (D3EM) program equips Master of Science and doctoral students at Texas A&M with the skills necessary to conduct interdisciplinary research in materials science, informatics and engineering design.
"This program will create a new class of students who are not afraid of exploring new things," said Arróyave, who serves as D3EM program director. "It will make them more creative and help them interact with experts in other fields in the real world."
The thematic connection between D3EM and the workshop on designing material systems is not a coincidence.
"This is an area of research we believe is gaining in importance," Malak said, noting strong connections to national initiatives in materials and advanced manufacturing. 
Teaching the teachers
Fowler, who holds her Ph.D. in interdisciplinary engineering, with specific emphasis on engineering education, assisted with the comprehensive curriculum design and plays a key role in training D3EM faculty members to be interdisciplinary in their ability to think, communicate and perform research activities.
"Interdisciplinary thinking is not necessarily natural — we're used to our disciplinary silos," said Allaire, who serves as D3EM communications director. "A big part of D3EM is not just educating the students, it's actually educating the faculty as well."
Through what is called the Community of Scholars, Fowler facilitates the faculty coming together on a regular basis to discuss scholarly articles related to interdisciplinary research or a component of it, and later discusses the same articles with D3EM graduate students through a graduate student learning community.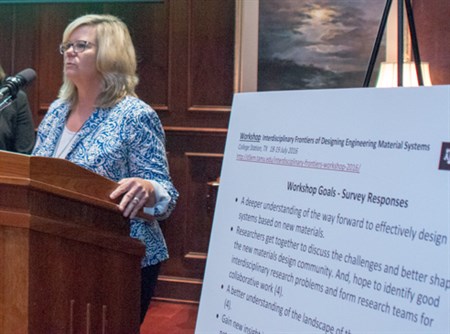 "It's a discussion other people aren't having, and supports the pedagogy behind interdisciplinary teaching and learning," Fowler said.
The interdisciplinary curriculum also includes energy- and entrepreneurship-related courses and activities through partnerships with the Texas A&M Energy Institute and the Center for New Ventures and Entrepreneurship at Mays Business School.
D3EM's overarching goal is to develop and institutionalize a new training model that produces scientists and engineers who are otherwise grounded in one discipline to have the professional and technical skills needed to communicate, collaborate and lead in interdisciplinary teams, Arróyave said.
"Success in this area is possible only by bringing people and ideas together," Malak said. "The D3EM program and the workshop both are ways to do this."
Contributing author: Samantha Ramirez