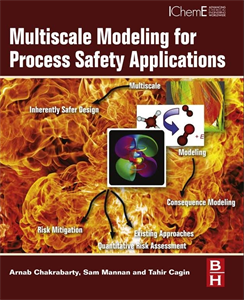 Dr. Sam Mannan, Dr. Tahir Cagin and Dr. Arnab Chakrabarty have co-authored a book that focuses on addressing the use of multiscale modeling in process safety.
Mannan is the director of the Mary Kay O'Connor Process Safety Center, Regents Professor and holder of the T. Michael O'Connor Chair I in Artie McFerrin Department of Chemical Engineering at Texas A&M University. Cagin is a professor in the Department of Materials Science and Engineering at Texas A&M. 
Chakrabarty, who completed his Ph.D. in chemical engineering in 2008 at Texas A&M, is the director of process technology at Virden Chemicals. Cagin was Chakrabarty's graduate adviser.
The book, Multiscale Modeling for Process Safety Applications, explores practical approaches to multiscale modeling in safety applications to address safety problems in all levels of modeling. The in-depth and informative text features examples and case studies to help readers understand the mapping between problem detail and effective usage of resources. For example, it demonstrates how a flammable vapor cloud might behave if ignited.
Mannan is involved in hazard assessment and risk analysis, process hazard identification, hazard and operability (HAZOP) studies, vulnerability assessment, process safety management and risk management. His research interests include development of inherently safer processes; application of computational fluid dynamics to study the explosive characteristics of flammable gases; development of quantitative methods to determine incompatibility among various chemicals; application of calorimetric methods for the assessment of reactive hazards; and application of consequence analyses to assess the impact of process plant incidents. 
Cagin's research interests include designing materials and material structures to improve the energy conversion from abundant sources such as thermal, mechanical, chemical and light to useable forms such as electricity. His research group analyzes the processing pathways using non-equilibrium statistical thermodynamics through advanced molecular dynamics methods.