Ross Luna, a junior in the Zachry Department of Civil Engineering at Texas A&M University, had the unique opportunity of participating in the 10-week Research Experience for Undergraduates this summer. Students from Texas A&M and Penn State University's colleges of engineering coordinated to create this program that aims to promote mutual awareness and collaboration between faculty and students at the two prestigious universities. Additionally, it provided opportunities for undergraduate students to participate in real research projects early in their academic careers. The goal is that these experiences will help broaden their engineering education early in their studies.
The program was split into two five-week sections, half at Texas A&M and half at Penn State. While at Texas A&M, Luna did his research with Dr. Zachary Grasley, associate professor in the civil engineering department, studying how leaching affects mechanical properties in cement mortar. Students had the opportunity to design their own cement mortar, induce it to leaching in ammonium nitrate, and test their samples in tension and compression using the machinery in the civil engineering research labs.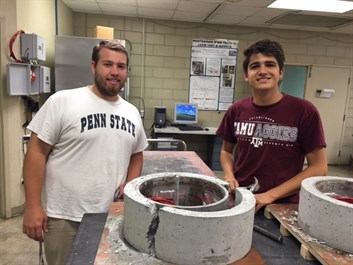 Luna also enjoyed the opportunity to show the students from Penn State around campus, teach them Aggie traditions, introduce them to Texas barbeque and take them on a road trip to Austin to celebrate the Fourth of July.
At Penn State, Luna conducted research under Dr. Aleksandra Radlinska, assistant professor of civil and environmental engineering. This research focused on how different cement mixtures performed against restrained shrinkage around steel reinforcements.
The goal of the research at both universities was to explore ways to increase the longevity and durability of concrete. The students were able to take part in real research and assist respected professionals in their fields of study. At the end of the program, Luna and his partner were able to present the results of their research to multiple professors from various fields of engineering.
"It was an amazing experience and it truly opened my eyes to wanting to pursue graduate school in structural engineering at Texas A&M," said Luna.  
The trip wasn't all about work though. During their free time in Pennsylvania, students took a trip to Philadelphia during the Democratic National Convention, visited New York City and attended a Pittsburg Pirates baseball game.
The opportunity to participate in such research made a lasting impact on the students involved.
"I am glad to have participated in the program," said Luna. "I learned so much and now want to attend graduate school in the future."
Contributing author: Ryan Terry