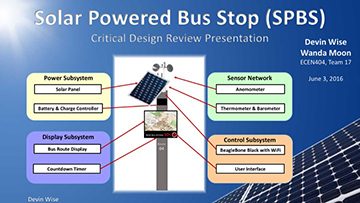 A senior capstone design team from the Department of Electrical and Computer Engineering at Texas A&M University took its design to the next level, earning a spot as one of the top teams in the United States in the Go Green in the City global business case challenge.
The sixth annual Go Green in the City global business case challenge, hosted by Schneider Electric, gives teams a chance to revolutionize energy management and gain unique insight into one of the leading global energy management companies. Teams submit an intelligent idea for efficient energy management in a city environment that addresses one of the five challenges related to growing cities and the energy dilemma, and present an innovative solution for the challenge.
Devin Wise and Wanda Moon presented their senior capstone design project, Solar Powered Bus Stop (SPBS). Their goal with the SPBS project was to create solar powered signage to attach to current bus stops located around campus that showed information regarding bus routes and the arrival of the next bus. Their design ranked them as one of the top three teams in the United States out of nearly 1,000 entries.
Schneider Electric SE is a French multinational corporation that develops connected technologies and solutions to manage energy and process in ways that are safe, reliable, efficient and sustainable. The Group invests in research and development in order to sustain innovation and differentiation, with a strong commitment to sustainable development.