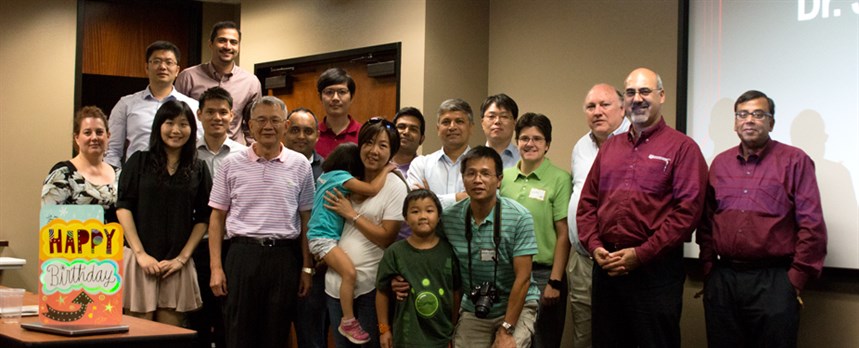 Family, friends, faculty and students gathered for a special symposium and banquet honoring Dr. Je-Chin Han, Distinguished Professor and Marcus C. Esterling Chair in the Department of Mechanical Engineering at Texas A&M University, for his many achievements and contributions to the field of engineering, and for his 70th birthday celebration.
Han has been with the department since 1980 when he joined as an assistant professor and has dedicated his life to advancing the field of mechanical engineering, focusing on thermal fluid science and energy and power technology.
During the symposium, former student Dr. Srinath Ekkad, Rolls Royce Professor at Virginia Tech, presented on behalf of Han's current and former students recounting Han's pioneering research and the profound impact he had on each of them.
"What is studied today, he knew then," Ekkad said. "He could see a dot and plot data — which he did by hand. I think we are better off because we were J-C Han's students; not just because we were Aggies, but because we were his students."
Han was the first researcher to provide correlations between friction loss and heat transfer to a variety of rib turbulence promoters — which is widely used in the field today for turbine internal cooling. His 1978 paper on rib turbulators is one of the highest cited gas turbine heat transfer papers with over 300 citations on the Web of Science Index.
Han was also the first to explore the degrading effects of unsteady high-turbulence on turbine film cooling performance using the transient liquid crystals image technique which is crucial in alerting designers that turbine blades might not be well protected by film cooling under hostile gas turbine flow environments.
Han's contributions and extensive research in thermal fluid sciences and energy and power technology, have earned him numerous awards and recognitions. He has received multiple honors from the American Society of Mechanical Engineers (ASME) and the American Institute of Aeronautics and Astronautics (AIAA).  Some of the most recent include the 2016 ASME International Gas Turbine Institute (IGTI) Aircraft Engine Technology Award; 2016 AIAA Fellow; and 2013 ASME Heat Transfer Division 75th Anniversary Medal.
The Department of Mechanical Engineering appreciates the hard work and dedication Han has shown to his students, the department and his field throughout his more than 35 years at Texas A&M.