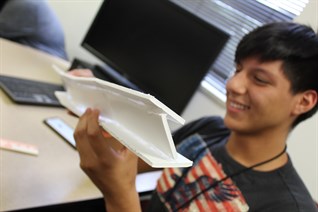 High school students attending this year's Camp BUILD explored the world of civil engineering in a whirlwind week filled with hands-on experience, design projects, real-world problem solving, competitions and tours at Texas A&M University. Camp BUILD is a one-week camp hosted by the Zachry Department of Civil Engineering at Texas A&M to introduce high school juniors and seniors to science, technology, engineering and mathematics (STEM) education and the civil engineering discipline. From purifying water collected in a local creek to designing a bridge, students witnessed the ins and outs of the study and profession of civil engineering in all of its various disciplines.
"Camp BUILD is a major K-12 outreach program where we work to minimize common barriers to entering the profession," said Dr. Kelly Brumbelow, associate professor and assistant department head for undergraduate programs. "Our camp activities follow good STEM practice where everything is hands-on, learning by doing and seeing first-hand. There's no text or notes to take because we want students to see their efforts come to tangible fruition by their own work, not by reading it in someone else's book. Many of us who are now engineers were fortunate to have these types of experiences early in our lives, and we want to bring that engagement to this next generation."
Throughout the week, campers participated in numerous hands-on lab activities. The activities were designed to expose students to the various specialties within civil engineering.
In the environmental engineering lab, students worked alongside Dr. Shankar Chellam, J. Walter "Deak" Porter '22 & James W. "Bud" Porter '51 Professor, to explore the use of chemical coagulation in addition to filtration to emphasize the necessity of pre-treatment during the water purification process. They also participated in a demonstration of electrical coagulation in water treatment.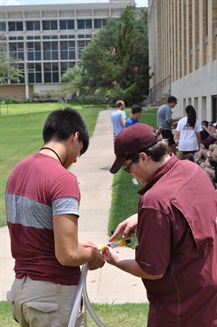 Additionally, students designed and constructed a pipe system spanning a 20-foot gap starting from a garden hose connected to a spigot and ending in a lawn sprinkler. The campers learned the concept of head loss – loss of kinetic energy in the water due to friction. The goal was to achieve the farthest spray out of the sprinkler and soak one of their counselors, sitting some distance away.
In the hydrology box experiment, students learned about the rate of water flow in sediment and how it is affected by urbanization. Avery Flessner, a counselor at Camp BUILD and sophomore in the department of civil engineering, studies water resources and was especially thrilled about this subject.
"The idea here is to show that increasing urbanization greatly affects how water flows over land, proving a further need for water resources engineers that would manage surface and groundwater run-off," said Flessner. "It's fun to be able to interact with them and share my passion for the profession and what I want to study."
Campers also participated in a beam design project using scale models they made with foam boards and balsa wood. The campers also got to see aspects of structural engineering up close when touring the new Zachry Engineering Education Complex, the future undergraduate engineering facility currently under construction.
"It was a great hands-on experience. I learned I really like the water resources and structural aspects [of civil engineering]," said Elizabeth Chong, a junior from Taylor High School.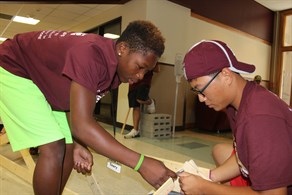 The wooden bridge project was a daily activity through the week. The campers were split into smaller teams to design a bridge that spanned a minimum of 10-feet and could support a vertical load of 200 pounds. The best bridge was decided in the competition held at the end of the weeklong session, where each team had 25 minutes to construct its bridge based on its preplanned design.
Additionally, campers had the chance to learn and use surveying equipment, apply AutoCAD software to design projects and visit the Texas A&M Transportation Institute (TTI). At the TTI campus, campers were introduced to the multidiscipline research behind most transportation engineering.
These activities taught the campers about important civil engineering concepts, teamwork, cooperation, creativity, time management and how to work under stress.
Due to its success over the past two years, the civil engineering department hosted two, one-week sessions of Camp BUILD this year. Over 95 students from Texas, Illinois, Tennessee, Kentucky, California, and Louisiana applied to participate in this year's camps. Sixty applicants were chosen to attend based on academic achievement, with a greater focus on those whose high schools do not offer engineering courses. The 60 students selected represented the most highly qualified candidates from a wide variety of backgrounds.
"A key factor in connecting the participants to the university, the college of engineering and the department has been to keep the number of participants at a level that allows them to build relationships with one another, the counselors and faculty," said Dr. Robin Autenrieth, department head and A.P. and Florence Wiley Professor. "We want each participant to know they are special to us and to leave the camp with fond memories and a deeper awareness of engineering, especially civil engineering."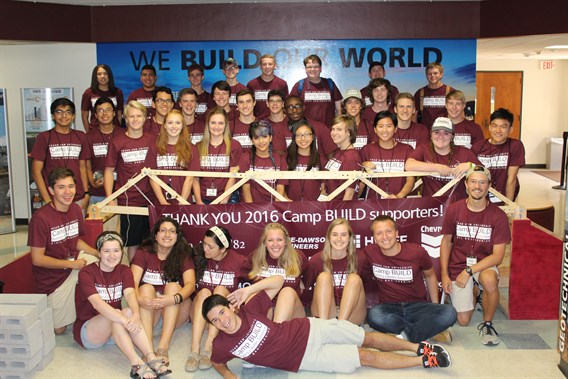 The rising senior campers have had remarkable success in their applications and admissions to Texas A&M and the college of engineering. Over the past three years, 73 percent of seniors have been admitted into Texas A&M and 85 percent of those have entered or will be entering the college.
"This camp has been amazing. I've learned so much about being a civil engineer and I can't wait to apply it," said Blazer Humphries, a junior from New Diana High School.
Contributing author: Ryan Terry