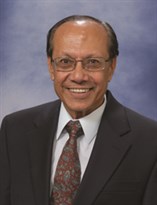 Dr. S.P. Bhattacharyya, professor in the Department of Electrical and Computer Engineering at Texas A&M University, was appointed adjunct professor in the Department of Electrical Engineering at National Cheng Kung University (NCKU), Tainan, Taiwan.
As honorary adjunct professor, Bhattacharyya, who visited NCKU last year to give four lectures, is expected to visit NCKU one to two weeks per year to deliver lectures and work on collaborative research. The hope is to strengthen its research and academic ties with the Texas A&M College of Engineering.
Bhattacharyya, the Robert M. Kennedy '26 Professor I in the department, was elected a Foreign Member of The National Academy of Engineering in Brazil in 2015. He obtained his B.Tech degree from IIT Bombay in 1967 and his Ph.D. from Rice University in 1971.
He joined the faculty at Texas A&M in 1980. He has co-authored eight books and nearly 300 papers in the field of control systems, was elected IEEE Fellow in 1989, IFAC Fellow in 2011 and was named a Foreign Member of the Brazilian Academy of Sciences in 2012.
NCKU is a research-led comprehensive university that is considered one of the most prestigious universities in Taiwan, with a high reputation in science, engineering, medicine, management, planning and design. U.S. News & World Report ranked it the 22nd Best Global University for Engineering and Computer Science in 2014.