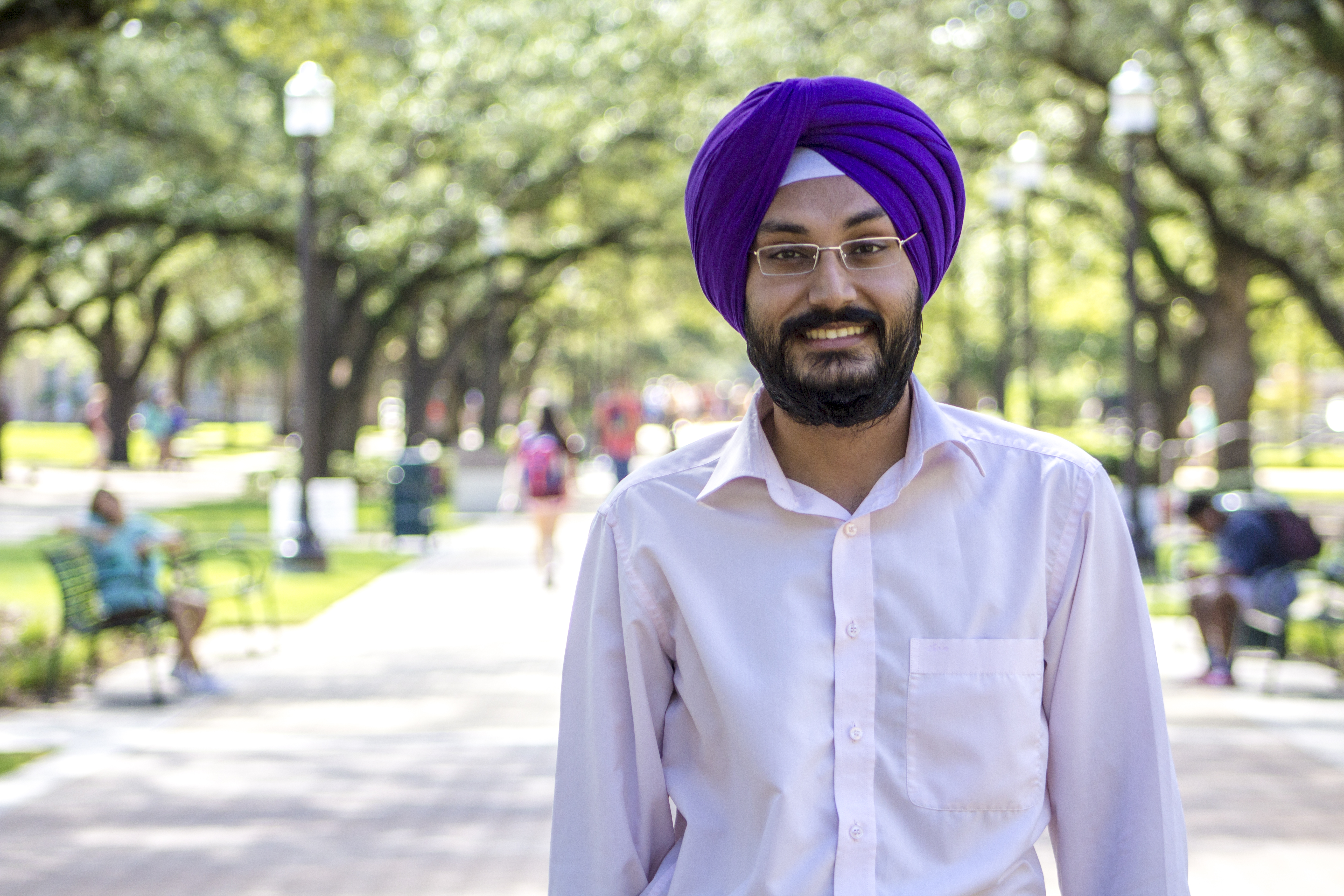 Children look up to the sky and dream about space and the mystery of the unknown compels everyone at some point. For most people, however, the wonder fades. Jaskirat Batra, a graduate student in the Department of Materials Science and Engineering at Texas A&M University has found a way to combine his childhood curiosity and his current research to work with the National Aeronautics and Space Administration (NASA).
Starting Early
As a high school student in Patiala, India, Batra represented the entire Asian region at the International Space Settlement Design Competition at Johnson Space Center in Houston. For their capstone project, his team put together a terraformation of different planets and a design of space settlements and colonies. 
Batra earned his bachelor's degree in engineering from Trinity University in San Antonio before enrolling at Texas A&M for his master's degree. As a graduate student, Batra was part of a project funded by the Center for Advancement of Science in Space (CASIS), in partnership with NASA, to develop small-chip technology that can analyze cancer and stem cell interactions in space.
"Our goal was to grow cancer and stem cells in space," said Batra. "In the past, people have experimented in 2-D petri dishes. Unfortunately, that does not replicate what our body does.  Biologists have come up with a model to grow tumors or other cells three dimensionally in space."
 Research
Batra is pursuing applied research in materials science and engineering where he is utilizing 3-D printing and micro-fabrication to design biosensors for use in health care. Dr. Jun Kameoka, an associate professor in electrical computer and engineering and Batra's graduate adviser, is leading the research. Kameoka is also an affiliated faculty member in materials science and engineering and an adjunct faculty member at MD Anderson Cancer Center. 
Together, Batra and Kameoka are developing a low cost, portable biosensor that can be installed as a chip and used with a smartphone to perform point of care diagnostics. The device can detect bacteria in water samples and, eventually in blood samples so that diagnostics can happen quickly in the doctor's office or at home.
"Right now we are in the technology development phase," said Batra. "It could be applied to any pathogen as long as we can find the right biology that works for it."
There are expensive alternatives that exist but Batra is finding ways to decrease cost so that widespread health care may be improved. 
Leveraging Aggie Network
Last year, Batra went to Washington D.C., to learn about science policy and the federal funding budget process at the Catalyzing Advocacy in Science and Engineering (CASE) conference organized by the American Association for the Advancement of Science (AAAS), an international non-profit organization. 
"This program taught us how the federal funding budgets work so we could advocate for good science policy and funding," said Batra. "It was an opportunity for me to go there, get trained and work with AAAS."
After attending the program, Batra was inspired to establish a local organization for his peers at Texas A&M. In 2015, he co-founded, and served as the president of, the Aggies in Science, Technology and Engineering Policy (A-STEP), which he now co-advises. 
The organization has grown to more than 175 students and includes Aggies from different majors and interests. Although most members are graduate students, an undergraduate leadership team is currently recruiting younger Aggies for A-STEP.
"It is a very diverse group," said Batra. "We have student members from different colleges such as agriculture, Bush School, college of science, and college of engineering.". 
Batra emphasizes the benefits of the Aggie network and encourages members of A-STEP to step out of their comfort zones.
"When you are talking to someone from a different college, you describe the importance of your work in the best way without using technical language," he said. 
A-STEP aims to create awareness of good science policy, provide professional development for its members and establish outreach opportunities in the community. 
"We want to train the new generation of professionals," said Batra. "We don't want them just to be scientists working in labs, we want them to be good communicators and be able to convey what they do well. Not just in technical jargon, but also in common language so that politicians and the public can understand."
Following the success of A-STEP, Batra was invited to join the leadership team as a regional director of the National Science Policy Group (NSPG), which is a network of more than 60 science policy groups all over the United States.
At Texas A&M, Batra has used his experiences as a student and a professional to teach others. His involvement in other organizations such as the Graduate and Professional Student Council (GPSC) through Grad Camp furthered the Aggie experience for the students he has impacted. 
As a chair for Grad Camp 2015, Batra helped welcome 220 new graduate and professional students to Texas A&M. This year as the assistant director of Grad Camp 2016, he organized three Camp sessions to introduce 430 incoming graduate students to Aggie traditions and culture. 
"We take so much pride in the Aggie network here," he said. "If you take the time to invest in the social capital of Aggies, you can benefit from their knowledge and experiences while creating your own unique Aggie story. Your network is your net worth." 
Contributing author: Haley Posey