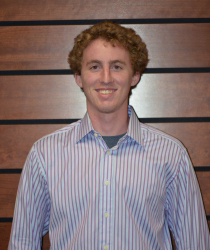 Andrew Weems, a graduate student in the Department of Biomedical Engineering at Texas A&M University, has been named recipient of the Whitaker International Fellowship. 
As a fellowship recipient, Weems will have the opportunity to study at the University of Warwick in the United Kingdom where he will conduct research in the laboratory of Andrew Dove throughout the spring 2017-18 academic year. As a Whitaker Fellow, Weems will work on synthesizing degradable shape memory polymers (SMPs) that will have advanced manufacturing applications. 
Weems, who works in the laboratory of Duncan J. Maitland, Stewart & Stevenson Professor I, was previously awarded the NASA H. Jenkins Fellowship to examine the degradation behavior of SMPs. 
"Andrew is an outstanding graduate student that will represent us well at both the summer NASA internship and during the Whitaker International Fellowship," Maitland said. "These honors reflect well on Andrew, our department and Texas A&M Engineering Experiment Station. Andrew's Whitaker Fellowship will enable all of us to benefit from his external research experiences."
The Whitaker International Program sends emerging leaders in U.S. biomedical engineering (or bioengineering) overseas to undertake a self-designed project that will enhance their careers within the field. The goal of the program is to assist the development of professional leaders who are not only superb scientists, but who also will advance the profession through an international outlook. Along with supporting grant projects in an academic setting, the Whitaker International Program encourages grantees to engage in policy work and propose projects in an industry setting.
The Whitaker International Fellows and Scholars Program was created by the Institute of International Education with a grant from the Whitaker Foundation. Its mission is to promote international collaboration in the growing field of biomedical engineering. Whitaker International Fellows are those who have received a degree in biomedical engineering, but have not yet obtained a Ph.D. Whitaker International Scholars are biomedical engineers who have already received a Ph.D. within two years of application.
About the Department of Biomedical Engineering
Committed to solving the world's greatest health problems through the exploration of new ideas, integrated research and innovation, the Department of Biomedical Engineering at Texas A&M is producing the next generation of biomedical engineers, developing new technologies and new jobs, and achieving revolutionary advancements for the future of health care. The department has unique strengths in regenerative engineering, medical augmentation, molecular diagnostics/theranostics, tele-health, and precision medicine, and its faculty members are internationally recognized with collaborative relationships that span engineering, physical and natural sciences, medicine and veterinary sciences.