Texas A&M University engineering students Brendan Cooper, Jean-Claude Faa and Jeffrey Zhao traveled to Silicon Valley, joining more than 200 University Innovation Fellows (UIF) for a four-day intensive experience that included trips to Google, Stanford University, Microsoft and Bay Area companies. 
The three were invited to the University Innovation Fellow Silicon Valley Meet-up as part of their participation in the Epicenter-based program. They have been Fellows since their acceptance in the fall 2015.
The students spent a day at Google discussing the importance of innovation and creating a space and mindset that encourages thinking big. Google's head of innovation and creativity programs, Frederik Pferdt and Tilek Mamutov from X (formerly Google X) mentored the students throughout the day.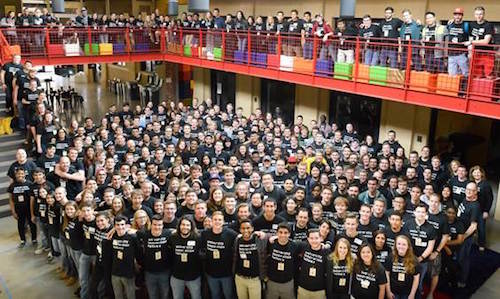 The students heard from Peter Sims, author and entrepreneur, Microsoft executives, Stanford professors and technology businesses about the importance of innovation, creative thinking and leadership from recent graduates.
The students said the most valuable part of the meet-up was the time they spent interacting with their peers. Cooper said that being with his peers has allowed them to form a community and they have continued their conversations even after returning to their universities.
Cooper said that the discussions added perspective for how the college of engineering does things compared to other universities. The Fellows are able to share innovative activities from the Texas A&M campus and receive feedback and ideas for things to bring to the campus.
"It's really provided us a community of similarly focused peers," said Cooper. "It's motivating knowing I have these resources at other universities."
The Texas A&M Fellows returned from their trip energized to make an impact on campus. The Fellows are planning ways to bring more multidisciplinary projects to the Texas A&M campus. They want to work with Evans Library to create a maker-space for students to start their creative process and to expand the U-Ignite Video Competition.
All three students are mechanical engineering majors. Cooper is a sophomore, Faa is a junior and Zhao is a senior. Carson Muscat, another Fellow who was unable to attend the trip, is a senior in petroleum engineering.
Epicenter is funded by the National Science Foundation and directed by Stanford University and VentureWell. The program has trained more than 450 students from 130 universities.