More than 100 new engineers received their diplomas during Texas A&M University at Qatar's annual commencement exercises held on the Education City campus on May 5.
Eighty-nine Aggie engineers earned bachelor's degrees in chemical engineering, electrical engineering, mechanical engineering and petroleum engineering, 43 of those to Qatari nationals. This is the largest graduation ceremony for Texas A&M at Qatar.
The branch campus also awarded its largest batch of master's degrees in chemical engineering, with 20 handed out. Since 2007, Texas A&M at Qatar has awarded a total of 725 degrees, including 43 master's degrees.
Texas A&M at Qatar's interim dean Dr. Ann Kenimer said, "Texas A&M University at Qatar is exceedingly proud of this year's graduates. Commencement is not the end of their journey, but the beginning, and we are confident this class will become leaders in their field and dedicate themselves to lifelong learning. While they have accomplished a great deal in the past four years, it is important for them to remember why they came to study here; they want to make a difference by finding new ways to solve problems and creating new knowledge to improve Qatar, the region and the world. We expect remarkable things from them."
His Excellency Dr. Mohammed bin Saleh Al-Sada, Minister of Energy and Industry, was the invited speaker for the ceremony. In his remarks, H.E. Dr. Al-Sada congratulated the graduates for their achievements, recognizing the pressures and challenges the students faced during their academic years.
"We all have gathered to celebrate your accomplishments, and we are very proud of you," H.E. Dr. Al-Sada said. "Tonight's ceremony is an affirmation that you have the skills, determination and vision to go forth and make a difference for Qatar, the region and the world. Now that you will be stepping out into the multifaceted world which has its own challenges, I urge you to always uphold the ethics, professionalism and moral character you have developed at university; and always keep in mind your obligations to yourself, to your family and to your country.
"Qatar is looking to you graduates to lead ahead the decades of growth, development and prosperity," he continued. "You need to dream to contribute to the achievement of Qatar National Vision 2030; Qatar is here to help you to realize your dreams." 
Texas A&M's president Michael K. Young, making his inaugural visit to the branch campus, also spoke to the graduates, congratulating them on their successes and wishing them all the best in their future endeavors.
"Texas A&M University is known worldwide as a leader in engineering education," Young said, "and never has this been more evident than tonight, in this place, looking out at this class of outstanding Aggie engineers. These students represent the future — not only for our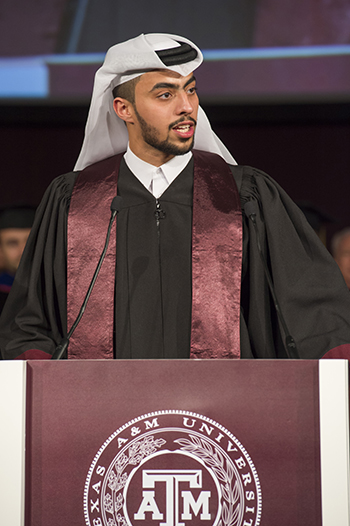 university, but also for the State of Qatar and the rest of the world. The impact these Aggies will have adds to Texas A&M's legacy as these graduates carry on the traditions that are the heart and the hallmark of a world-class Aggie education. Congratulations, graduates — we look forward to big things from each of you."
The May 2016 graduating class is diverse, with 20 graduate and 17 undergraduate chemical engineers, 24 electrical engineers, 30 mechanical engineers and 18 petroleum engineers. The graduating class is 35 percent female and represents 24 countries.
VIP student speakers included Meera Mohammed Amin Abu Soufah, a Class of 2016 chemical engineering graduate; student speaker Jassim Khalifa A A Al-Sowidi, a Class of 2016 graduate in mechanical engineering; and Loganathan Lokesh, a Class of 2017 chemical engineering major who led the Aggies in singing "Spirit of Aggieland."
Dr. Mark H. Weichold, former dean and CEO of Texas A&M at Qatar from 2007 through 2015, formally inducted the graduating Aggies into the Texas A&M University Association of Former Students, which now comprises more than 436,000 graduates of the university worldwide. Weichold is a Class of 1978 electrical engineering graduate of Texas A&M.