The work of more than 700 students was represented at the Engineering Project Showcase on April 29 in the Hall of Champions at Texas A&M University's Kyle Field.
The Engineering Project Showcase provides students an opportunity to demonstrate and display their engineering projects highlighting the ingenuity of engineers solving real-world problems.
"The showcase has become a college signature program for industry, students and prospective students," said Magda Lagoudas, executive director for non-profit partnerships. "It is an amazing feeling to be there and see the wide range of innovative projects on display and students excited to discuss their work. These are the leaders of future technological innovations and we are excited about their positive impact on our world." 
The showcase has become a pinnacle event of the year with more than 700 students and 150 engineering projects represented. The event brought industry representatives and judges from nearly 40 companies to campus, providing students an opportunity to network and discuss potential collaborations for their innovations.
"The benefit to us is to be able to present a year's worth of work to an audience," said senior biomedical engineering student Robert Faries. "It's great to see all the other teams and their projects and be able to brag on each other." 
The awards ceremony at the end of the showcase recognized the top teams with more than $13,000 in prize money awarded. Shell and Emerson sponsored the showcase.
"Seeing the amazing work by each student team is truly inspiring," said Rodney Boehm, director for Aggies Invent.  "Everyone who came to visit was impressed by the technical quality of each project, but more importantly the passion students had about their work. The industry representatives told me how much the showcase allowed them to see how the college of engineering is preparing students for the workplace."
Two teams, Cinching Dual Anchor and Mitigation Methods for Accidental Offshore Oil Spillages, tied for the overall Engineering Project Showcase award.  Each team received a $2,000 prize.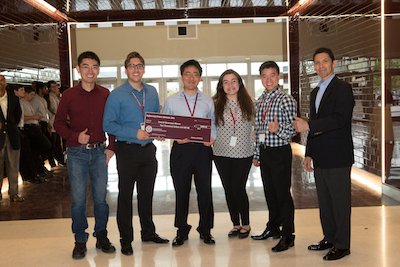 Cinching Dual Anchor is a biomedical engineering capstone team under John Hanks and sponsored by Texas Children's Hospital.  Team members include Sarah Gates Altieri, Jacob Heiner, Rebecca Sehnart, Faries and Berkay Basagaoglu.
Mitigation Methods for Accidental Offshore Oil Spillages, AggiE_Challenge team under Dr. Zhengdong Cheng in the Artie McFerrin Department of Chemical Engineering. Team members include Monica Cuerno, Andrew Nguyen, Chang-Hyun Choi, Khuong Le, Matthew Carlin, Ehab Abo Deeb, Magy Avedissian and Nian Wei Tan
The $1,000 Emerson Award for the highest placing capstone team  went to TSAT Communications: a CubeSat to Earth Communications Development.  Its team members included Trent Tate, Dakotah Karrer, Vince Rodriguez, David Smith and faculty advisor Mike Willey. It was sponsored by TSAT.
The $1,000 Shell Award for the highest placing non-capstone team was a tie between the Texas A&M Hyperloop Teamand Point of Care Health Informatics for Proactive Epilepsy Seizure Alert.
The Hyperloop team was under the direction of Dr. Adonios Karpetis and Dr. Moble Benedict from the Department of Aerospace Engineering. Team members included Ashley Harris, Matthew Connely, Dean Ellis, Lucas Mussina, Christian Sotello, Brian Hubbard, Michael Bayern, Sreekanth Reddy and Daniel Mullen
Point of Care Health Informatics for Proactive Epilepsy Seizure Alert, an AggiE_Challenge team, was under the direction of Dr. Satish Bukkapatman from the Department of Industrial Engineering. Team members included Ashif Sikandar Iquebal, Matthew Aquirre, Arwah Al-Kahtani, Cihan Barnett, Elnihum Lujain, Heran Guan, Ngan Le, Loke Binti Nur Sheril, Zimo Wang, Kahkashan Afrin, Iskander El Amri, Christina Sheldon, Advait Parulekar, Nguyen Ngan and Nguyen My Duyen
In addition to the large overall awards 10 awards of $500 each were given for best Capstone projects in various departments, AggiE_Challenge, Ennovator (which includes Aggies Invent, EPICS and Startup Aggieland) small design team and large design team (10 or more students).
Biological and Agricultural Engineering
Aquatics Robotics – SARA — San Antonio River Authority, sponsor.  Dr. Gregory Stark, faculty advisor. Team members: Lauren Nemec, Spencer Corry, James Veselka and Hunter Teel
Biomedical Engineering
Noninvasive Hypoglycemia Monitoring System — Dr. John Hanks and Dr. Ellen Friendman, sponsors. Team members: Andrew Sutter, Kelsey Hicks, Utashya Shah, Andrew Lipinski and Visesh Keerty
Cinching Dual Anchor — Texas Children's Hospital, sponsor. Dr. John Hanks, adviser. Team members: Sarah Gates Altieri, Jacob Heiner, Rebecca Sehnart, Robert Faries and Berkay Basagaoglu
Electrical and Computer Engineering
Ericsson Drone Signal Surveying — Ericsson, sponsor. Dr. Sam Villareal, adviser. Team members: Braeden Levine, Nicolas Bain, Kyle Sparrow and Yinwei Zhang
Tactical Data System — Dr. Sam Villareal, adviser. Team members: Randy Neal, Renito Ramirez, Kevin Wilkens and Raul de la Fuente
Mechanical Engineering
Improvement of Consumer Ice Chest — Igloo, sponsor. Dr. Noushin Amini, adviser. Team members: Hunter Strickland, Fengyi Fi, Tyler Buffington, Keven Kleppe and Joshua Lockhart 
Smart Valve Monitoring System — Bray Controls, sponsor. Dr. Noushin Amini, adviser. Team members: Joel Sam, Samuel Luedeker, Maxwell Snodgress, Shyla Escobedo, Jesse Yancy and Alex Schoening
Industrial and Systems Engineering
Optimizing Delivery Territories and Vehicle Balance Plan for New UPS Hub — UPS, sponsor.  Dr. Erick Moreno, adviser. Team members: Sarah Valero, Charles Bentz, Cody Keller and Robin Hall
Engineering Technology and Industrial Distribution
TSAT Communications: A CubeSat to Earth Communications Development
Ennovator
Lite Alert Infant Monitoring Detector —  An Aggies Invent team working with Texas Children's Hospital. Team members: Maximiliano Ortiz, Kristen Calhoun, Jessica Brezicha and Jessica Hanson
AggiE_Challenge
Mitigation Methods for Accidental Offshore Oil Spillages
Small Design Team
The Nanowell: A Novel Approach to Water Generation  — Team members: Coleman Fincher, Jeffery Ott, Jeffy Ho and Geoffrey Garner
Large Design Team
TAMU Hyperloop Team