"We call it the 'thrill of victory' and the 'agony of defeat,'" said Dr. Joseph Morgan, professor in the Department of Engineering Technology & Industrial Distribution at Texas A&M University, as he observed his undergraduate students race the robotic cars they each built for a class project.
More than a dozen two-person student teams recently flooded the Product Innovation Cellar of Thompson Hall for a competitive demonstration of their work. From hardware design, programming and circuitry work, the pairs were each responsible for creating two cars. One student would create the car for a drag race — characterized by a long, straight path ideal for fast speed — while the other student would develop a car for the road race, which is longer, has sharp turns and traditionally slower travel.
Participants were from the digital electronics course in the electronic systems engineering technology program, a sophomore-level course that — among other objectives — intends to prepare students for their senior-year capstone project. 
"This course involves analog electronics, digital electronics, algorithms, integration, optimization and more.
"All things engineers must know how to do," said Morgan. "In this project, like the capstone project, their design has to work."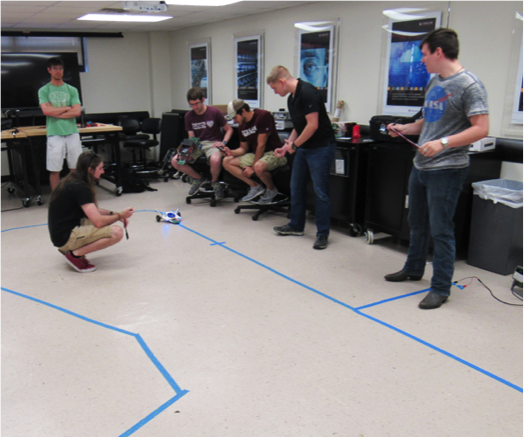 First place honors went to David James and Avery Tijerina and they received a $250 check from Xilinx, the race sponsor. Second place went to Ty Blackstock and Juan Carlos Urguidi, recipients of $150. Sherman Wilder and Dylan Goins received $100 for third place.
James added balsa wood propellers to his militia-inspired robot. A Marine veteran, the race champion said he was intentional in making the blades appear as realistic as possible, noting that he was inspired from his work on similar equipment while serving on active duty. 
Caleb Stewart, junior, was a student in the Department of Electrical and Computer Engineering before recently joining the program and enrolling in the digital electronics course.
"Here, we have a lot of hands-on experience," Stewart said. "It's been about designing an actual product where the solution is unknown at the beginning. This is something we build from the ground up."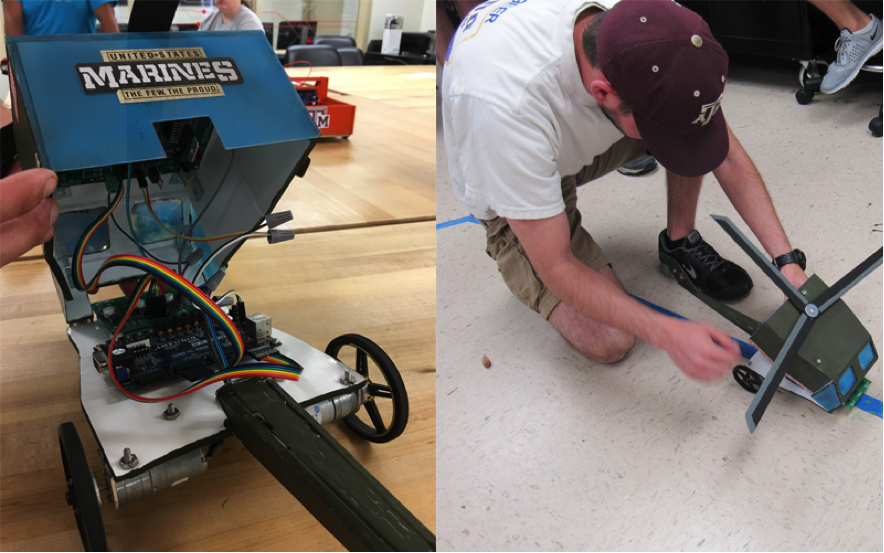 "Through projects like this, the ESET program provides students with a transformational education through experiential learning opportunities," said Dr. Jay Porter, associate ETID department head and ESET faculty member. "Two hours after the races, DVDT, an ESET capstone team won the Mays Business School Ideas Challenge, netting them $3,000." 
This recognition follows the team's first place performance at last week's College of Engineering Showcase.
"If you are an innovator/entrepreneur and are interested in a hands-on education that leads to a rewarding and challenging career, take a look at ESET," said Porter.       
Photo (Top): Students assemble with their robotic cars.
Photo (Middle): Team "Air Force One" runs the race.
Photo (Bottom): David James, race champion, presents his robot for the road race.