The Texas A&M University chapter of the Health Physics Society (HPS) attended Rock Prairie Elementary School's Science and Technology Night and taught students from kindergarten to the fifth grade and their parents about the process of radioactive decay.
"The main message we were trying to get across is that nuclear [concepts] such as radioactivity do not mean [nuclear processes] are dangerous," said Anna Laura Licon, president of the Texas A&M HPS chapter.
HPS volunteers used M&M candies to demonstrate the process of radioactive decay to the students by focusing on the relationship between radioactive half-life and population. The volunteers took bags of 35 M&Ms and designated the candies as isotopes of the element candium. The students were told that the candies had a half-life of 6s and they would shake the bag of M&Ms and pour them out.  Those candies that came out without the trademark "M" showing had "decayed," and were discarded. The students then placed the remainder of the candies back in the bag and repeated the process until they were all discarded and then graphed the results of the experiment in order to see the exponential relationship.
"The kids seemed to enjoy it and actually understood what was happening and why," Licon said. "If you implant this idea at an early age they will grow up with an open mind [and] by bringing M&Ms into the teaching of radioactive decay they receive an understanding of the basic concept while relating it to something they also enjoy."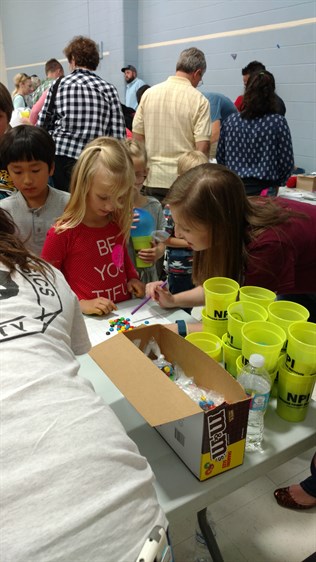 According to Licon, outreach events such as these cater to one of the goals of HPS, to educate the public about the discipline of health physics and how it benefits the world. By reaching out to young students who are not engineers and who may have no familiarity with the discipline of health physics, the chapter hopes simple experiments such as the candium half-life experiment will help demonstrate how nuclear engineering can be applied in many different ways.
The chapter also provides resources for students at Texas A&M interested in the field of health physics. Twenty students from the chapter recently participated in the mid-year conference for HPS in Austin, where students were given the opportunity to network with professionals in the discipline. For Licon, who will be starting a four-year doctoral program at the University of Texas Health Science Center in San Antonio after graduating this May, events such as the mid-year conference and outreach at local high schools allow her to see the larger impact of HPS.
"I believe events like this, especially when involving young children, open the minds of those who participate to become more educated towards concepts people are afraid of approaching," Licon said. "I spoke to a kid about what his parents thought of nuclear and at the end without me asking he said, 'I'm going home and telling my parents that nuclear can be safe and fun and very useful.' Hearing him say that made me realize that it is really about the way you approach the situation."