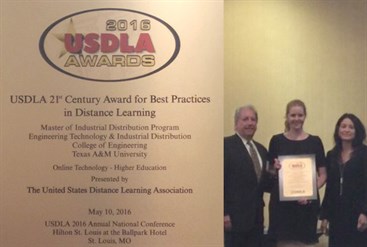 The United States Distance Learning Association (USDLA) presented its 2016 International Distance Learning Award for 21st Century Best Practices to the Master of Industrial Distribution (MID) program in the Department of Engineering Technology and Industrial Distribution at Texas A&M University.
"As a premier organization for the entire distance learning profession, we are honoring the MID program as a leader in the industry," said Dr. John G. Flores, executive director of USDLA and program professor at Nova Southeastern University. "The MID program has raised the bar of excellence, and we are truly honored by their contributions within all distance learning constituencies."
"The MID program began in 2001 and was the first fully-online master's program offered by Texas A&M University," said Bharani Nagarathnam, associate director for graduate programs for industrial distribution. "We are thrilled to receive the 21st Century Best Practices Award from the USDLA."
The USDLA award comes just two months after the Texas Distance Learning Association (TxDLA) presented the MID program the 2016 Excellence in Innovation and Distance Learning Award.
The award-winning MID program is the only graduate program in industrial distribution and was born out of need when members of the Texas A&M industrial distribution advisory board expressed a desire for their employees to earn master's degrees while increasing business acumen. But there was a catch—the employees couldn't leave their jobs. So, the industrial distribution program developed a master's program where students explore cutting-edge, practical solutions for industrial distributors and manufacturers,and are able to apply what they learn to their work environments right away. All MID courses are designed to be asynchronous to meet the demands of working professionals.
"We use videos, podcasts with industry professionals and discussion boards to teach courses and build professional community," said Nagarathnam. "Our course videos are typically 6-8 minutes so the successful, time-crunched professionals enrolled in our program are able to easily navigate course content."
Last year, responding to student feedback, the program shifted all required reading to e-books and students are now given iPads fully loaded with the apps and course content needed to complete the program. Students also share three key immersive learning experiences: a one-week residency in August, a global distribution trip and an individual capstone project—a 9-month project culminating at the end of a student's second year, resulting in deliverables and a return on investment for the student's company. The graduation rate for the master's program is 94 percent.
"In the program's first 10 years, our class cohorts hovered between 12-15 students," said Nagarathnam. "But in 2012, we began to see significant growth, and our class of 2016 is 70 students from 17 states and three countries. These are exciting times in our program—made more exciting with the recent awards from USDLA and TxDLA." For more information on the MID program, please visit: http://mid.tamu.edu