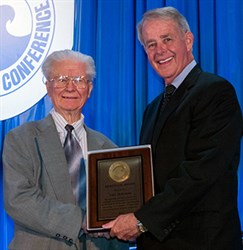 OTC Heritage Award winner Yuri Makogon (left) with OTC chairman Joe Foster (right).
Dr. Yuri F. Makogon, retired TEES Research Engineer in the Harold Vance Department of Petroleum Engineering at Texas A&M University, received a Heritage Award recognizing his lifetime scientific accomplishments during the 2016 Offshore Technology Conference (OTC) in Houston this May. The Heritage Award is one of a few distinguished achievement awards OTC gives annually in recognition of personal, cooperative and lifelong achievements in the oil and gas industry.
Makogon, a world-renowned expert on gas hydrates and an astute research scholar of the water-gas phase behavior in the Earth's stratum, will receive the award at the conference in May. He began work for the university in 1993. His career in oil and gas education and research spans 60 years. He has authored over 270 scientific papers, written eight books, and holds 29 patents.
In 1965, he discovered natural gas hydrate deposits in nature. He established the hydrate research laboratory at Texas A&M, where he expanded the knowledge of a number of important physical gas hydrate properties, investigated kinetics, morphology and properties of hydrate crystals.
Makogon is a member of Ukraine Oil-Gas Academy (2010) and has received many international awards during his career. He was one of the founding members of the Russian Academy of Natural Sciences (RANS), established in 1990. In 2015, he received the President's Star of Success Award from RANS as recognition of his lifetime achievements. The award was presented to Makogon on his 85th birthday during the anniversary of his 25 years of service to the organization. He currently serves as the U.S. Section Regional Secretary of RANS.