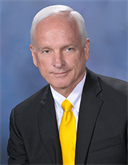 Dr. Dallas Little, Snead Chair Professor and Regents Professor in the Zachry Department of Civil Engineering at Texas A&M University, was awarded the Carl L. Monismith Lecture on Pavement Engineering by the American Society of Civil Engineers (ASCE) Geo-Institute.
The lecture is awarded annually for outstanding research contributions in pavement engineering. Little will be presented with a plaque and honorarium during the Geo-Chicago conference Aug. 14-18. The Monismith Lecture is to take place on Aug 17.
Little is a senior research fellow at the Texas A&M Transportation Institute (TTI) and was the first researcher named to that position. He has served as principal investigator over an array of national research projects for such sponsors as the Federal Highway Administration, National Cooperative Highway Research Program, the Air Force Office of Scientific Research and the National Science Foundation. He has also served as principal investigator on numerous projects for the Texas Department of Transportation and private industry. He recently served as principal investigator for Texas A&M's role in the $30 million Asphalt Research Consortium (ARC) project focused on advancing the state of knowledge in the fundamental and applied design and analysis of asphalt materials and pavements. He has published over 200 journal articles and given over 450 invited lectures.
ASCE established the lecture in recognition of Professor Carl L. Monismith's contribution to pavement engineering, and in recognition of his teaching and research career in pavement technology, which spans more than 50 years. Throughout this period, he has mentored numerous graduate students who have disseminated advances in pavement technology around the world.