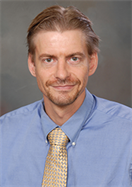 Dr. Zachary Grasley, associate professor and Peter C. Forster Faculty Fellow I in the Zachry Department of Civil Engineering at Texas A&M University, was selected as a First Year Faculty Fellow in the Dwight Look College of Engineering.
This new program was designed to attract the most talented tenured and tenure-track engineering faculty educators to teach freshmen engineering students and contribute to improving the freshmen engineering experience. The program aims to foster exemplary undergraduate teaching skills and commitment to excellence in fundamental engineering courses.
Faculty are selected through a nomination process that includes an application that provides evidence of the individual's teaching excellence, such as innovative programs or teaching strategies initiated, effective use of technology in the classroom and  awards received. Nominations also address the nominee's experience and skills working in teams and potential to assume a leadership role in facilitating the educational transformation of the freshmen year.
Grasley has been with Texas A&M for eight years and is also a faculty member in the materials science and engineering department.