UPDATE: April 28, 2016:

The space technology engineered by two undergraduate students and startup company Texas Space Technology Applications and Research (T STAR) was successfully activated by Astronaut Tim Peake on board the International Space Station. The collaborative project, named STRATA, is investigating the behavior of regolith, the powdery substance found on the moon, and other terrestrial objects such as asteroids.    
"We are up and running." said Dr. Kristen Johns, NASA Postdoctoral Fellow and STRATA deputy project manager.
Overall project manager Lee Graham said, "Tell Vince and Dakotah they did a great job."   
"T STAR is ecstatic about activation of our first on orbit flight article," said Matt Leonard, president of T STAR. "This is just another example of the power of the partnership with Texas A&M."
Original article published November 12, 2015: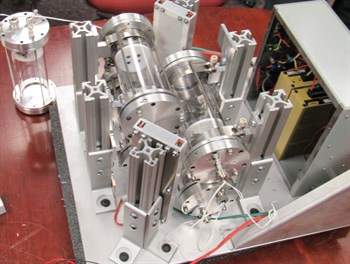 Students in the Department of Engineering Technology and Industrial Distribution at Texas A&M University, in partnership with Texas Space Technology Applications and Research (T STAR), a Bryan-based space company, are developing an integrated hardware and software system that assists NASA scientists in identifying properties of an unfamiliar substance recovered from space. Using this tool, the students will help shed some much-needed light on "the final frontier."
Electronic Systems Engineering Technology (ESET) students within the Mobile Integrated Solutions Laboratory (MISL) are bridging the gap for a team of scientists who are creating Strata-1. Developed in a collaborative effort, the embedded intelligence of Strata-1 will function as the hardware and software subsystem that will monitor and control the experiment developed by a team of geoscientists from NASA and the University of Central Florida surveying an element called regolith. Regolith is the fine, impact-shattered material on the surface of airless bodies like the Moon, asteroids, and comets.
Strata-1, the first regolith experiment is scheduled to leave earth on SpaceX-9 and will run for more than a year on the International Space Station (ISS). Dr. Joseph A. Morgan, professor and director of MISL, mentored the Strata-1 undergraduate team of Dakotah Karrer (hardware developer), Vince Rodriguez (software developer) and Gustavo Ordonez (documentation) in meeting all NASA requirements on schedule and on budget.
The MISL team was initially approached by T STAR to work in collaboration with them to meet the engineering needs of NASA's Astromaterials Research and Exploration Science (ARES) Division geoscientists from Johnson Space Center and the University of Central Florida. The goal is to monitor the regolith and study how it reacts in a micro-G environment. Little is known about regolith, more commonly known as moon dust, and the public, private, academic team seeks to find out how it impacts different space systems. Unable to test it on earth with a full G of gravitational pull, the experiment will be taken to the ISS and will be tested in a near weightless environment.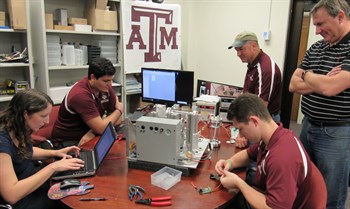 The NASA Strata-1 team is partnering with T STAR and the ESET students who provide the engineering while T STAR provides the expertise in space hardware development and other valuable tools to complete the project — meeting NASA's demanding requirements necessary for operation on the ISS. 
The Strata-1 system has undergone three major revisions to accommodate the space-qualification process. The students stick to a standard of keeping it simple while meeting the customer's requirements. A great deal of unknown factors come into play when working on projects going to the ISS. Documentation on everything is key and gives the students many opportunities to brief NASA engineers on how their system functions. NASA individuals across the nation are reviewing the end product with a significant amount of testing to insure the viability of Strata-1 to withstand all aspects of transport to and operation on the ISS.
Strata-1 will open doors to other similar and more challenging projects. Based on past performance and proven capabilities, T STAR and the ESET program continue to be incorporated in the development of embedded systems for NASA projects. ESET students are gaining real-world experience that sets them apart and results in companies eager to hire them based on their experiential education and capabilities when they graduate. By moving from theory to practice and then delivering products that have to meet demanding standards of organization such as NASA and T STAR, ESET students are taking their education to a new level. Motivation is key to learning and what better way to motivate young men and women than to offer them the opportunity to design and deliver a system destined to be flown on the ISS. 
As a final demonstration of NASA and T STAR's confidence in this undergraduate team, NASA and T STAR have asked the ESET team to be in the NASA Mission Control Center for the deployment of the Strata-1 experiment. The team will be in the NASA Mission Evaluation Room (MER) and provide real-time support for the NASAStrata-1 team and the on-orbit ISS crewmembers.