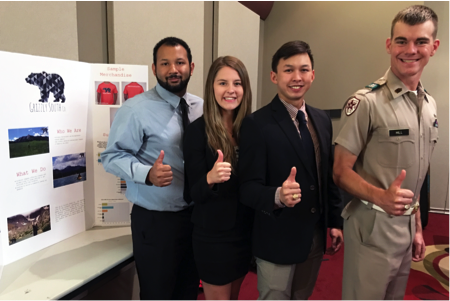 Students from the Department of Engineering Technology & Industrial Distribution at Texas A&M University recently participated in an event that featured displays of student entrepreneurial ventures and a panel of industry speakers.
Semester coursework for the class, IDIS 454: New Directions in Distributor Competitiveness, includes the student startup exhibit with subject areas ranging from food delivery services to outdoor adventure guides.
Many professionals across the industrial distribution field visited with students throughout the semester and several gave remarks on this occasion. 
On the subject of pursuing success, Bob Borsh, former president of House of Forgings, Inc., said, "Those that want to make it, go for it."
Students were encouraged to represent their business models as they might in the real world. Several teams are considering continuing with their project after graduation.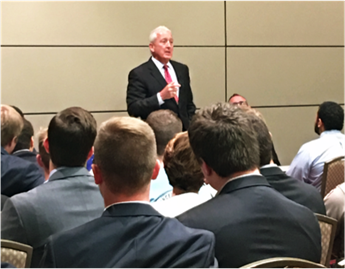 Team "Grizzly South" is a figurative company that proposes a business plan to offer the Texas Hill Country community affordable means by which to explore nature through a variety of guided trips.
"Some of us are more involved in it than others and would like to take it forth, but it will depend on popularity if we start to do merchandising," McKenzie Hall, a junior, said of her group.
Fellow team partner, Eugene Richards, class of 2016, said that knowing how to create a business plan is valuable, adding, "It's been a wonderful treat going through this experience."
"This whole exercise was aimed at providing students an exposure to what it takes to start a business on their own," said Dr. Malini Natarajarathinam, associate professor and honors program coordinator. "It became a rich experience for the students mainly because of the participation of the many mentors." 
Photo (Top): "Grizzly South" team members (from left): Eugene Richards, McKenzie Hall, Michael Nguyen and Ricky Hill. Not pictured: Benjamin Stumpf and Yongjun Kwon.
Photo (Right): Bob Borsh, former president of House of Forgings, Inc., gives advice to students.